Route & Highlights
It's Summer, it's hot and I am cruising through Bavaria in Germany. So why not go on a little side trip? Time for Bella Italia!
On the way to North Italy, I crossed the Alps on the route from Germany to Bozen and Rovereto. Oh dog! What an adventure and definitely worth a trip. The first sightseeing destination was Venice. O Sole Mio! You better be ready for Fiete and me.
As it is impossible to discover Venice with a RV, I decided to camp on an island close by – Lido de Jesolo, just a ferry ride across the Adria and very close to the city centre of Venice. Fiete enjoyed the ride with the ferry just as much as I did.
From Venice, the route took me to Rimini, back to the mid country to Bologna and Pisa over to Milan and back to Germany. You should plan in at least a week to have enough time and explore the variety of landscsape and cities. Since I wanted to spend as little time as possible in the car, I was driving mostly on Italy's highways and therefore had to pay a decent amount for the toll accordingly. If you do not necessarily have time pressure, you should definitely use the country roads when planning your itinerary.
However, it is not advisable to drive a RV through major Italian cities. Many roads are limited accessable or even closed for traffic (zona traffico limitato). In some cities, new environmental zones with different driving regulations have been set up, for example for Milan (Ecopass), Rome, Venice and Bolzano. In addition, the traffic rules in southern Italy are interpreted generously, which makes city traffic very quickly exhausting.
Here is my route in detail: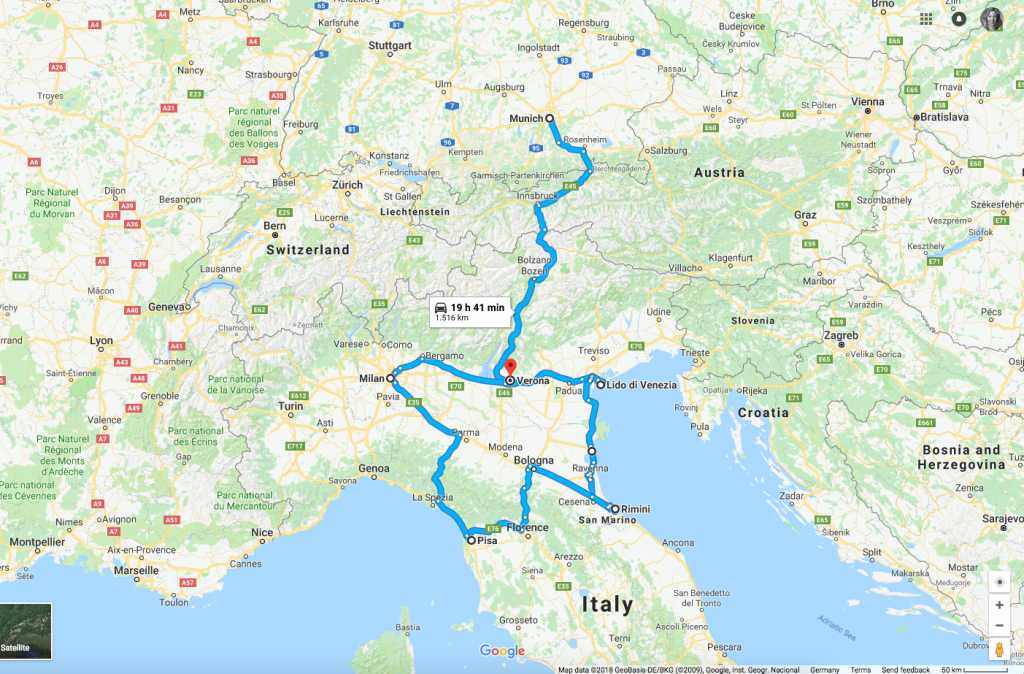 Landscape & Scenary
The North of Italy looks like a glossy brochure: Cypress rows in a hilly landscape and winding paths through vineyards full of grapes. Here there are Agriturismi with long tables under olive trees, where the wine flows abundantly and the Mamma di Casa refills your plate once again. In addition to these pleasant stereotypes, there are still plenty of spots off the beaten track, which I absolutely recommend you to discover:  The unique and varied landscape, the cultural and historical treasures and culinary offerings, the mild climate of Italy and the beautiful sandy beaches. These are all reasons to come here more often.
Besides amazing landscapes North Italy has much to offer if you are a fan of cities and sightseeing – form Venice to Florence, Pisa and Milan.
Explore & Discover
Venice
What makes Venice as a city so unique is the total absence of traffic. With the exception of a small part of the city at the end of the bridge, which connects the lagoon city with the mainland, Venice is one big pedestrian street, with virtually no modern architectural elements, which adds to the impression that Venice has a timeless feel.
The only public transport in the city are ferries and gondolas. Bridges connect the separate areas of the city connected through channels.
The houses, streets, churches and palaces of Venice were built on millions of wooden poles, which were rammed into the underground. Many buildings are in poor condition today, despite many recognizable restoration efforts. A walk through the streets of the old town, especially when you are off the beaten tourist track, gives you the strong impression that Venice lives in a sort of majestic romantic nostalgia.
Obviously, my number one sightseeing highlight was the Grand Canal. The main waterway is four kilometers long and up to 70 meters wide. It separates the six districts and is spanned by four bridges.
The most famous is the Rialto Bridge. You can also use the gondolas and water buses to get from one side of the city to the other.
Venice's landmark and most significant square in the city is St. Mark's Square in the San Marco district. As the only place in Venice it also bears the name piazza. On the 175 meters long and 82 meters wide place thousands of tourists and Venetians cavort daily. After all, with the Doge's Palace, St. Mark's Basilica and the Campanile di San Marco there are three more visitor magnets and famous sights of Venice right nearby.
Fiete and I loved Venice. It's a very unique city worth to visit. However, if you can, try to avoid Summer time as it is crowded like crazy. Better times for a visit seem to be Spring and late Fall.
Milan
Milan is a cultured and cosmopolitan place that at the same time celebrates its economic position and its cultural heritage.
Besides eating pizza, pasta and ice cream or watching posh and fancy dressed women strolling through the shopping centre, it is worth to see "Il Duomo", the Dome of Milan. As I am not a big fan of crowded cities in the Summer, and I know Milan very well from my past business travels, I didn't spend too much time here and made my way through the Toscana again.
Pisa
Pisa has not much to offer than the famous leaning tower. I haven't seen much of the city as parking here was a nightmare and it didn't feel very safe to leave the RV standing unattended. There were mobile traders and tourist everywhere, so I decided to make a quick visit here.
A quick tower visit and that was is to see already. The tower itself is much smaller than I would have expected but it is worth a picture and get back on the route.
Food & Drinks
Hey, we are in Italy and of course I have to dedicate a section to food and drinks – yum! Besides pizza, pasta and risotto, it seems to be an Italian habit to drink Aperitivo. It's quite common for Italians to enjoy a white wine spritzer or Aperol even at 10AM in the morning . Depending on the place, there are sandwiches, snacks or olives served with the Aperitivo, too. I could definitely get used to this way of life.
And ice cream. Definitely try the original cold taste of heaven in all the varieties you can get in Italy. It's worth the calories and you won't regret it.
Summary
O Sole Mio, Dolce Vita, Bella Italia! Northern Italy with all its beautiful multifaceted landscapes, exciting cities and sightseeing destinations is in any case worth a trip. You can read more about my Italy travels on my upcoming RV Route 2018, as I will come back for sure.
In terms of traveling with a dog, it's one of the perfect countries of choice. Italians are for a majority very dog friendly, you can even take your partner on paws with you to restaurants and bars. The only two downside though are very hot temperatures in Summer and the useful law of having dogs wear muzzles on public transportation.
---
Product Recommendations
As dogs have to wear muzzles on all public transportation – even on ferries – here is my product recommendation for muzzles that don't harm your dog too much for as little as [amazon_link asins='B01NCNEVGB|B00O8LYJDG' template='PriceLink' store='diggingdog-21|diggingdog03-20′ marketplace='DE|US' link_id='24cdf9db-0804-11e8-9996-b38099429cca'].
One hint in case you didn't know it: In Italy you are legally required to carry a warning sign at your vehicle if you have over length vehicle such as most RVs. Here are low priced options for you for less than [amazon_link asins='B000Z6RZN4′ template='PriceLink' store='diggingdog-21′ marketplace='DE' link_id='8b01ea1c-0804-11e8-919a-0f2144d80395′].