Route & Highlights
I just love the Northern Coast of Germany. This is my home and where my heart is. Growing up and living in Hamburg, Germany I visited almost every beach spot from the North to the Baltic Sea. Over the last ten years I've spent mostly long weekends standing with the RV right at varying beaches, listening to crushing waves, grouching seagulls and sometimes even laughing seals.
Here is my favorite route along the coast of Germany: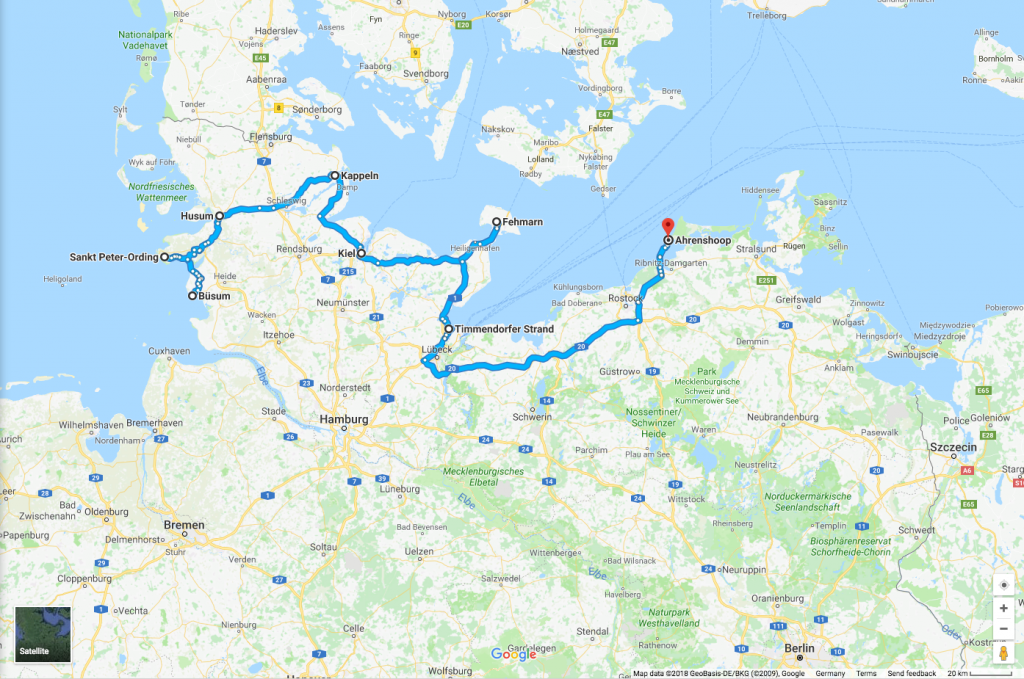 Both areas, from the East to the West are very different from each other but both bring their own unique feel with them.
They say the East coast is more rough. Storm (or as we call it in Germany "Steife Brise"), fog and floodings are very common here. The beaches seem to be endlessly long and you get an impression what it must feel like being the only person in the world.
The West however is more populated with some posh tourist spots, hotels and cafés along the coast. The smell of the Baltic Sea with its salty breeze standing in the soft light sand is one-of-a-kind.
There are many small towns with its own little harbors where you can buy fresh fish and seafood directly from the boat ("Kutter").
What all coastal areas in Germany have in common though is that it rains a lot, even in Summer.
So Fiete and I are always prepared staying at a nice spot right at the water, listening to raindrops and being prepared to rush out whenever there are sunrays coming through the clouds.
Besides the weather, both areas also have two other things in common: "Fischbrötchen", a bun with different types of fish on it. And an ice cold beer –  Northern Germany at its best.
Explore & Discover
Büsum
Büsum is a small town at the North Sea being known for its fishing and boat industry. Many historic boats get restored here. Nearby is the Büsum Lighthouse, which is still active.
The Aquarium Büsumer Meereswelten is home to over a hundred species, including sharks, turtles and seahorses.
Sankt Peter-Ording
Sankt Peter-Ording is a popular German seaside spa. It is the only German seaside resort that has a sulphur spring and thus terms itself "North Sea spa and sulphur spring". Its characteristics include a beach that is approximately 12 kilometers long and up to one kilometer wide.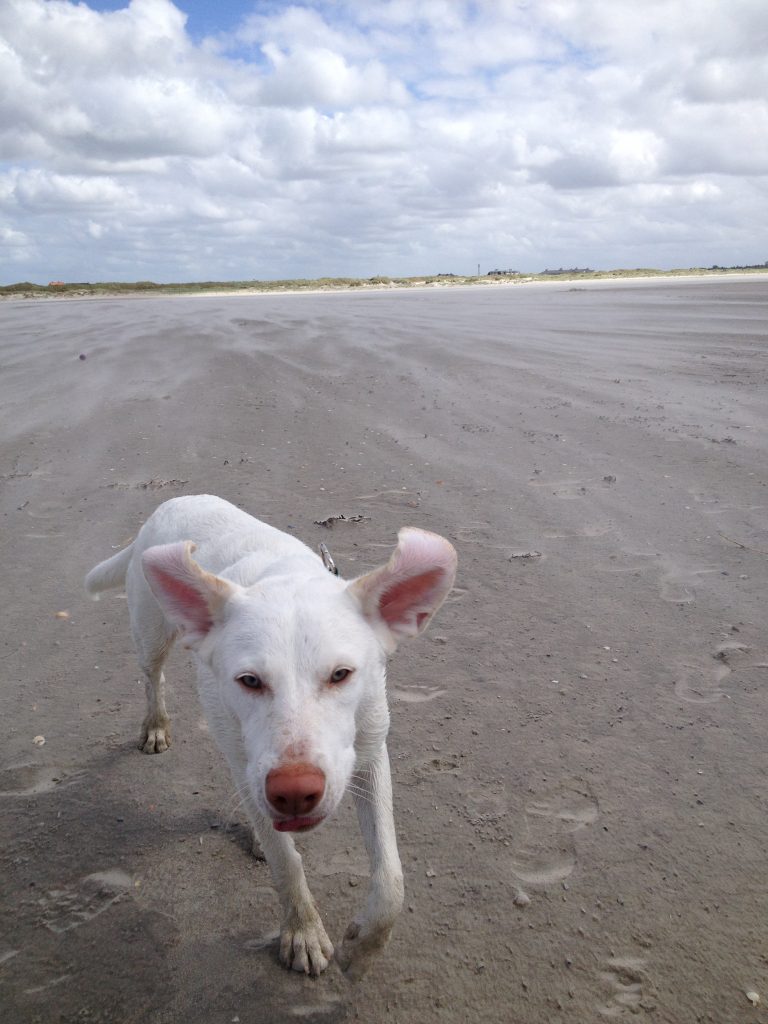 Fiete and I love long walks at the mostly lonely beach. The beach is so flat and smooth that it has become a popular site for sail-racing, a sport similar to wind-surfing just on wheels.
The normal range of the tides is up to three meters. However, intertidal mudflats are very common and should carefully be looked up in the tidal calendar before you start a walk in the mud or leave your RV at the beach.
Fehmarn
This is an island in the Baltic Sea, off the Eastern coast of Northern Germany. Fehrmarn is connected to the mainland though a bridge which makes it very convenient to get there. If the wind is too strong it might happen that the bridge gets closed for trucks and caravans, so you better make sure to check the weather forecast frequently.
Timmendorfer Strand
Timmendorfer Strand is a municipality on the Bay of Lübeck. It is very popular and crowded in Summer as people from the surrounding big cities come here to relax.
"Strandkörbe", your own private space right at the beach are very common here.
There are also many new, posh hotels and restaurants. You will have to like the flair  in order to stand the mass. Fiete and I however decided to only come here in Fall and Winter to enjoy the sandy beaches and salty sea breeze by ourselves.
Summary
The coastal route of Germany is definitely worth seeing. The varieties of nature, seas, beaches and dunes are highly impressive. If you look out for more quiet places try to avoid the Western route in Summer. Dogs have to be on a leash at all times during this season. Booh!