Only two more days!
Today is Sunday, March 4th 2018 and we have only two more days until we will leave on our Europe Trip. Two more days! Time has been running lately the closer we come to our leaving date, and I just realized how much there is still to organize and prepare. Here is the final countdown, so I am happy to share our latest checklists, new vehicle updates and also challenges over the last couple of days.
Even though times are pretty stressful right now being in the middle of checking off lists and getting ready to leave, I am very grateful for having the opportunity to travel through Europe soon, and I can't wait to start the motor and just get on the road.
Final Countdown Checklist
Here are my final checklists which might be useful for you if you are planning your upcoming camping vacation or longer stay on the road.
All products can be ordered on Amazon. If you purchase through my affiliate link below, that would be wonderful as I will receive a tiny share back. No extra cost involved for you. Many thanks!
[amazon_link asins='B01NBIM6AR,B01MQSLZDB,B00MVX7X5O,B00C76TKBU,B0756Y381T,3765453099,B000297U2U,B06XXRNHS2|B01N78FGCF,B00CYBXH7G,B01N7YRN4E,B000EDSSDO,B01MAVR8UW,B003BZD08U,B002PXVZP4,B01K5EF0NM' template='ProductCarousel-Fixed' store='diggingdog-21|diggingdog03-20′ marketplace='DE|US' link_id='9ac9ad1b-4ae3-11e8-99ba-79540a697ca9′]
Vehicle, Electronics & Safety
For a more detailed recommendation and Amazon shopping list list, get back to my Basics & Facilities section. Here is my top overview of stuff to pack:
Navigation system
Levelers to balance out unevenness
Motor oil
Spare oil & fuel filter
Towing rope
Jumper cables
Water hose
Foldable water canister
European gas bottle adapter
Cable reel (> 25meters)
Extension cable
Power adapters
Tool kit
Cable ties
Batteries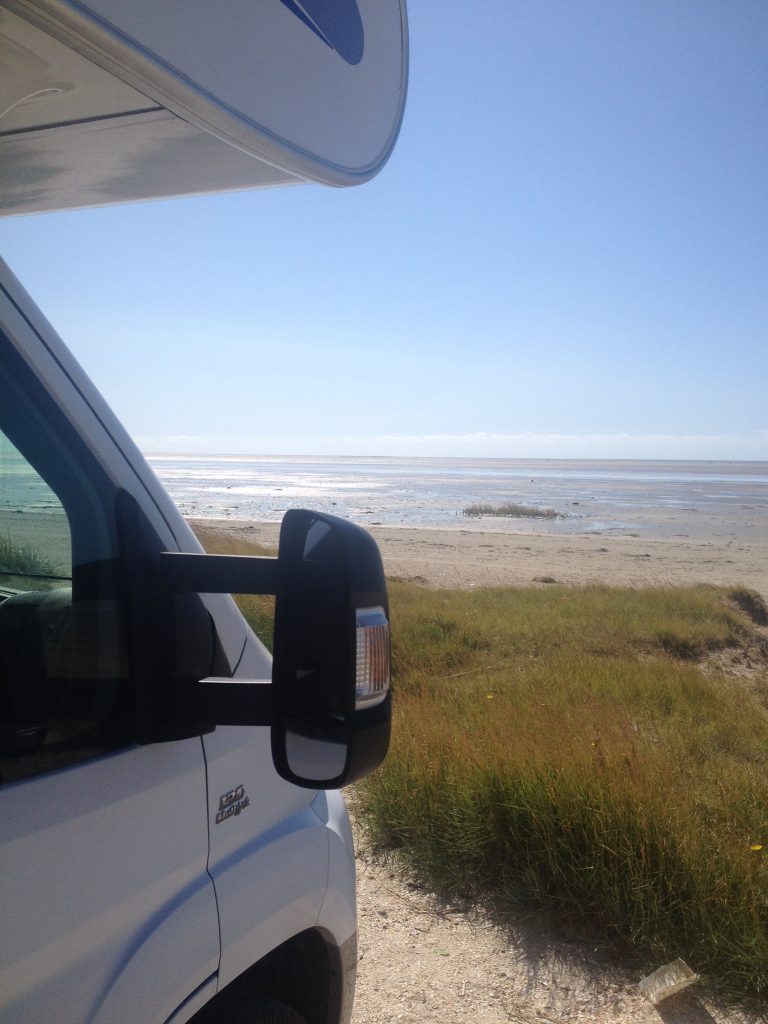 You can find everything related to Safety & Security in my separate section. Here is the shortlist:
Safety vest for each person in the vehicle
Warning triangle
First aid kit
Headlamp
Gloves
Flashlight
Fire Extinguisher
 Food & Drinks

Kitchen Supplies
Water
Tea bags / Instant coffee
Food cans
Dry food such as pasta, mashed potatoe powder
Milk powder
Dog food & bowls
Meds for humans & pets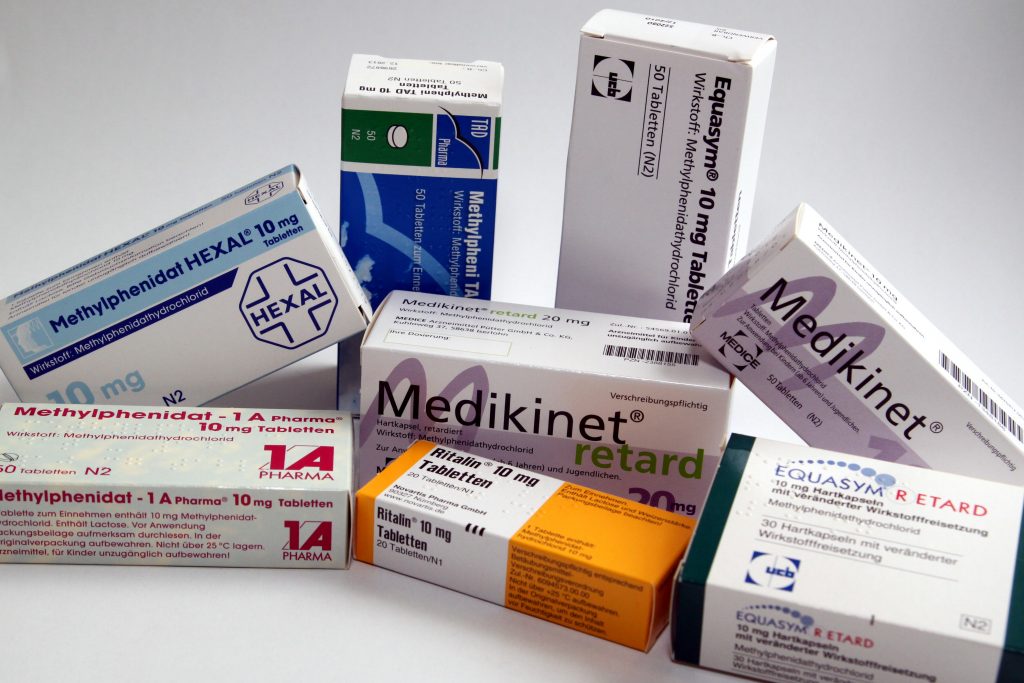 Desinfection spray
Painkiller as tablets and ointment (Paracetamol, Ibuprofen, Voltaren etc)
Diarrhea and charcoal tablets
Cold / warm compresses
Thermometer
Bepanthen wound and healing ointment
Heparin ointment for bruises
Kytta ointment for muscular pain
Fenistil for mosquito bites
Tweezers for ticks or splinters
Meds that you or your pet need individually
Chill & Comfort

Cooling & heating fan
Camping chair(s)
Camping table
Blankets
Dog bed & supplies
Hammock
Lamzak bed
Heating matt
For even more useful recommendations check my Comfort & Interior and Outdoor & Activity sections.
Documents & Papers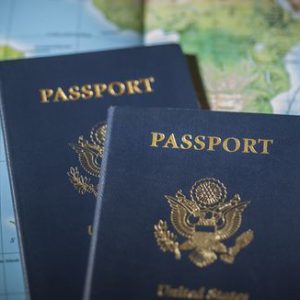 ID and or passport
Driver's license
Vehicle registration
Green insurance card
International health insurance
Vaccination certificate
Credit card, debit card, bank cards
Wallet
Of course, if you need individual items add them to your individual list. I was pretty good in checking off my packing list. More time consuming however were last minute vehicle updates which I am happy to introduce to you now:
New Features & Upgrades
My RV is pretty well equipped with useful extras I invested in over the last couple of years. For this long Europe trip however, I needed to install some additional features and upgrade my home on wheels with more gimmicks. I can tell you, what a chaos and mess it was last week, but the installs were worth it – phew!
SPARE TIRE
In case you have a flat tire and you don't want to wait for AAA to come and get you, I installed a spare tire under my RV. The cable pull mechanism allows me to save up on space while giving easy and convenient access. If you have a bike rack in the back and therefore just little space for a spare tire, I recommend you to install it under the RV. This is a little more effort, but hey – space is important. You can install this mechanism for as little as EUR 139,00 just by yourself.
Dashcam
I have had some minor uncaused accidents in the past such as scratches and crashed mirrors, so I decided to install a dashcam to record everything that happens on the road. This also serves security measures in case thieves break into the car or general robbery which might happen during the trip. Plus, it gives me the option to share sequences of my fun driving routes with family and friends. So three convincing reasons to have a dashcam on board. I am aware of the fact that not all countries allow the recording and monitoring of traffic and driving through dashcams. It is even legally forbidden in Germany, Austria, Switzerland, Belgium and the USA to carry this device. However, I have to admit that I decided to take this risk for own safety reasons that do not balance out eventual legal consequences.
BACKUP CAMERA
For parking into tiny spots and checking what's going on outside while you are inside. Also very useful in unattended spots to make your travel save. You can get dashboard backup cameras for as low as EUR 44,99. The installation however, if you are not very tech savvy, should be done by pros.
Alarm system
I know that opinions about the use of narcotic gas differ a lot. There are many camping stories of assault out there that scare people off. I don't know whether or not these are true, but for selfish reasons only, I decided to invest in a multi way gas alarm system which tracks narcotic gas, carbon monoxide, butane and methane.
As all of these gases are either heavier or lighter than oxygen, you ideally install two systems which are installed close to the floor or up on the ceiling to detect different gas types. It simply makes me feel much safer in case there is a gas leak or intended assault while I am living on the road.
GPS TRACKER
So my family, friends and readers can live track my route 2018, I am relying on a GPS tracker device with a small monthly fee of less than 14 Euros per month. The stored data allows me to make a realtime import to Google maps and therefore update my live route every five minutes. You can get the device itself for less than .
Here are my Amazon shopping recommendations for dashcam, GPS tracking and alarm systems – all useful features that increase your own safety:
[amazon_link asins='B077BZX62F,B07425TPBT,B0018D5HWE,B06ZZHYWTT|B01C89GCHU,B018800TR2,B06XX62HVT,B077GT3ZXF' template='ProductCarousel-Fixed' store='diggingdog-21|diggingdog03-20′ marketplace='DE|US' link_id='79a17574-1e33-11e8-9a50-f7fe5d8e8b6c']
Yellow Angels
If all these preparations weren't enough, I needed the Yellow Angels on the last minute as well: Two days ago, it was freezing cold in Hamburg. But I had to get my RV to the local repair place for a final inspection and check up. As it was -15 degrees Celsius at night, and my appointment was in the morning, I prepared myself for some trouble starting the motor.
It is normal that the battery charge level is quite low during cold weather and a longer break of not driving in the season. So I bridged the RV to my other car before starting to not stress the battery too much. Yes, the power block was pretty empty, but I was at least able to crank the engine.
It sounded like a pump trying to start but kept breaking off. After a couple of tries, I noticed a loud squeeking sound coming from the engine hood followed by a fountain of gas. Heck! I had no idea of what was going on. After first steps to prevent the diesel to seep into the ground, I was finally able to call ADAC, the equivalent to AAA in the US.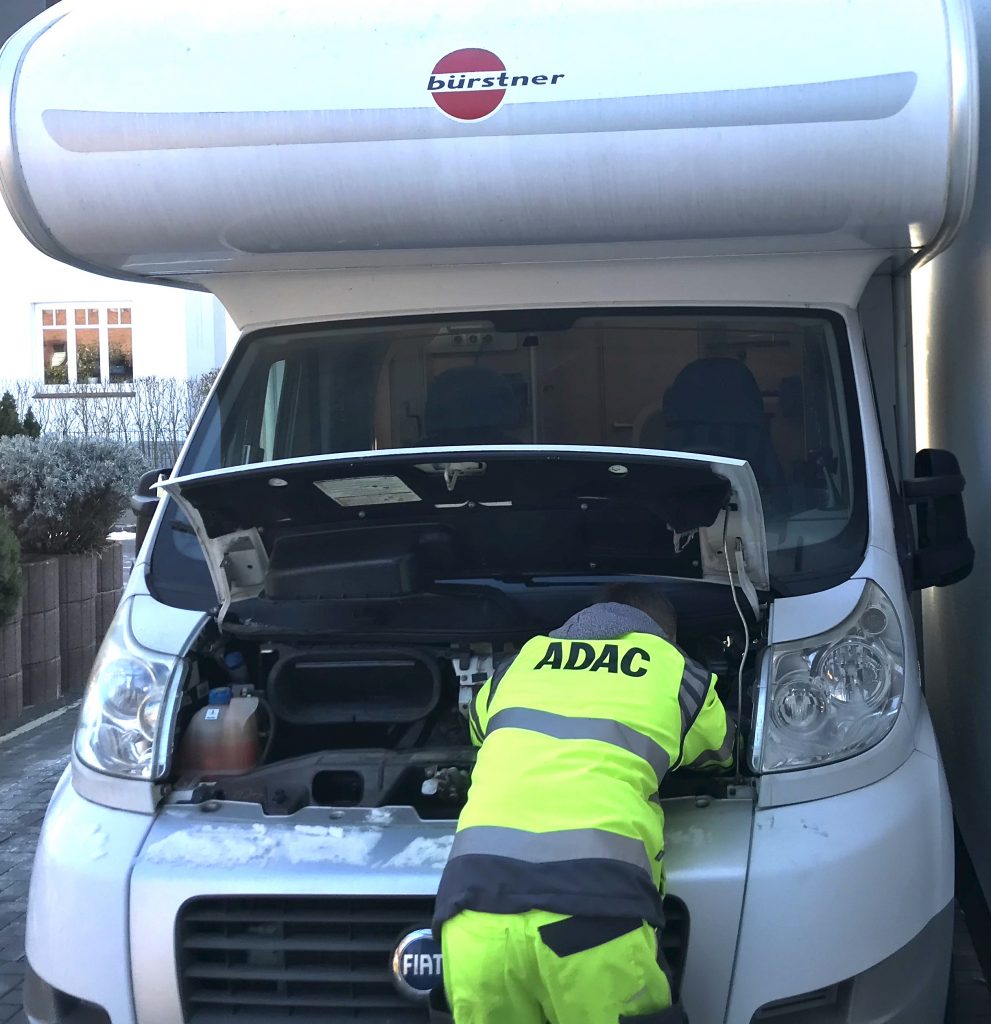 It turned out that my fuel pump cracked due to the low temperatures overnight. So, the tow truck had to get me to the repair place to get this fixed as soon as possible. I really hope that they can finish the work by tomorrow, as we will be leaving just the day after. Oh well, adventure number one started even before the trip. Make sure to become a member at ADAC or AAA, so it is not a problem to break down with the car on the road.
Stay tuned and don't miss out whether or not we were able to make it to our first destination Leipzig.