Choices & Decisions
I bought my RV in 2014 and still don't regret that decision. Why did I decide for this exact model? Well, I can tell you I did research over an over again, went to motorhome and camping stores, checked reviews, got all the details you need to know but at the end my list of decision criteria was pretty clear. If you are planning on purchasing a new or used RV yourself, here is a list for you.
Of course, this is my own personal opinion and yes, maybe also strongly led by a women's opinion, but it might give you some direction in the jungle of offerings out there in the market.
Length
Hey, I am a woman and I don't want to embarrass myself not being able to back into a parking space. So I chose the shortest model I could find. Simple. 5,99m.
Bathroom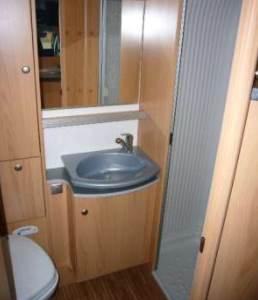 Most of the RVs on the market have teeny tiny bathrooms. Yes, I get it, you have to save on space. But definitely not in the bathroom. I don't want to crawl over the toilet to get to the sink or shower next to the cabinet. Not even in an RV. This model has compared to the overall length a huge and almost luxurious bathroom with a separate shower cabin and built in wardrobe.
Kitchen

Over 90% of the RVs on the market don't have a separate kitchen from the living area. And if they do they are tiny. Which again is not very comfy if you live in your vehicle for a while.
So even though I am not very well known for standing in the kitchen a lot, the separate kitchen niche of this model convinced me.
Alcove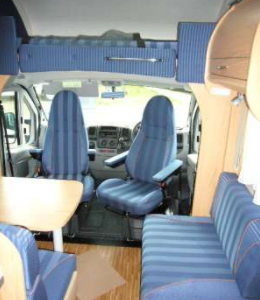 Even though it might not be very fuel efficient, having an alcove has many advantages. It gives you storage room and a separate sleeping space without having to pass on the overall short length of the vehicle itself.
And there is nothing better to listen to rain drops on the metal ceiling and enjoy the view from the window from up above in the morning.
Overall, I am very happy with my decision and I love spending time in my RV, not only when it rains. It really became a second home that fulfils all the requirements for living in a small space.
Check out my product review section for making your home on wheels even more comfy as soon as you call it your own.