Route
Greece – I love you! You have been wonderful to Fiete and me.  We will come back – promised!
Fiete and I have been spending almost two months in Greece from March through April 2018. We started coming from Tirana in Albania over to Thessaloniki, Macedonia and Chalkidiki. From there we looped back to Thessaloniki to go further South along the coast visiting the Pélion and Athens. From there we took the route through Peleponnese over to Delphi and Meteora until we finished off in Igoumenitsa to take the ferry to Bari in Italy.
Here is our route in detail:
You might wonder why we skipped the entire Peleponnese area, even though I was initially planning to explore this peninsula on my route 2018. You can read in my post "Change of Plans" why that is exactly.
Highlights
On our itinerary, we found wonderful beaches, little bays with crystal clear turquoise water, met wonderful people and Happy Places. Fresh local food and wines were definitely a huge contributor to enjoying Greece as much as we did.
There were 5 top destinations though that impressed me the most, and I highly recommend to visit these places when you are in Greece. Here is my list of highlights:
1) Chalkidiki
Chalkidiki or Halkidiki is a region in Northern Greece known for its jutting peninsulas, which feature Mediterranean forests that give way to sandy beaches in sheltered bays. There are three areas in Chalkidiki – Kassandra, Sithonia and Mount Athos from West to East. These areas each form a separate finger.
They say that nowhere in Greece can boast beaches like those of Halkidiki. The region has the perfect combination of that distinctive Greek light, unspoiled landscapes, colours and fragrances. This place impressed me so much because all your senses literally come to life, whether on the endless expanses of sand of the beaches or in the intimacy of the many secluded bays and coves. The scent of the pine trees and the salt brine are a wonderful combination. Not to forget the majestic sunsets.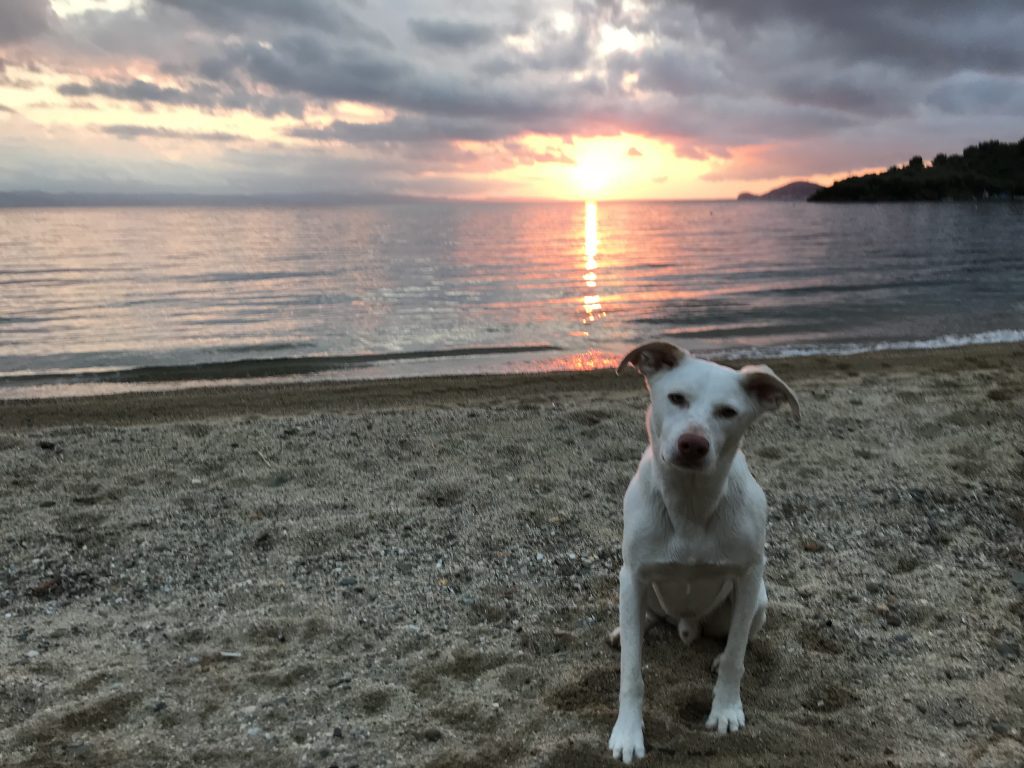 Fiete and I went to Sithonia which is the middle finger of the peninsula. Watch how beautiful the drive was on our way South to Neos Marmaras. The landscape is covered with vineyards, forests, grasslands, shrubland and mountains.
I decided to stay in a bay South of Neos Marmaras where I found a vast territory with some of the most isolated beaches in Sithonia. You don't need to go far outside of Neos Marmaras to find that isolation.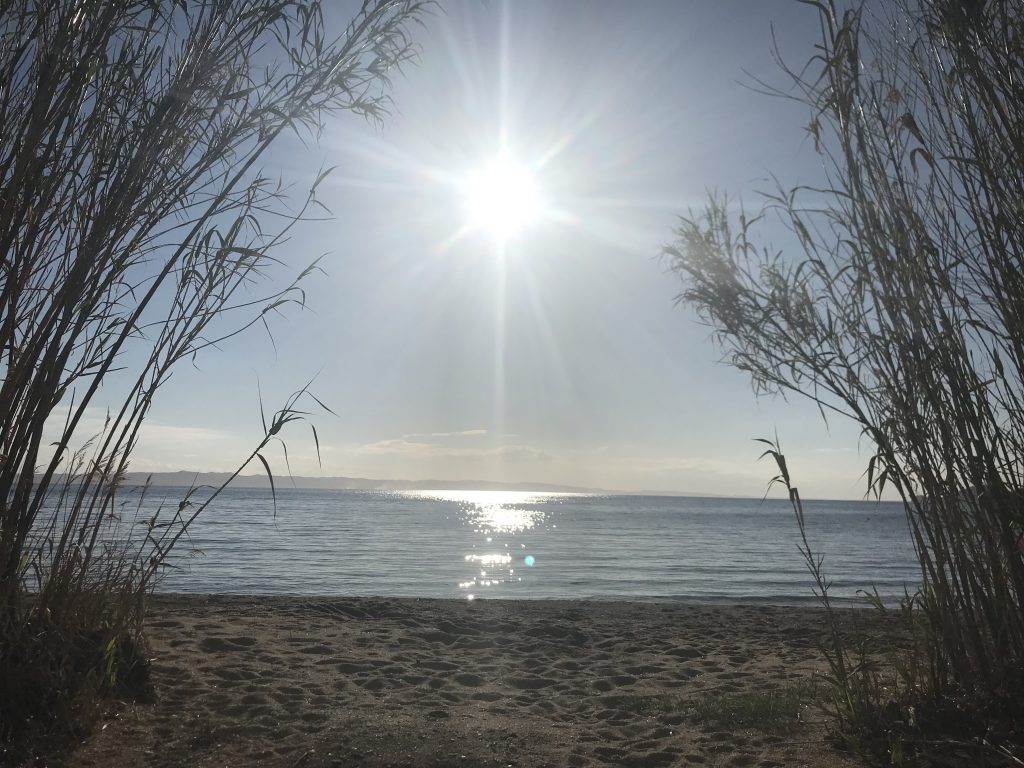 Another interesting fact about Chalkidiki is that on the Eastern finger – Mount Athos, women are not allowed to enter. Yes, you have read this right. The only place I knew before where women are not permitted has been the Herberstrasse in Hamburg before. I didn't know there were more places like this.
In fact, Mount Athos is with 335 square kilometers the largest area in the world from which women, and female animals, are banned. For religious reasons and an Orthodox tradition, Mount Athos has barred women for more than 1.000 years – they are not allowed within 500 meters of the coast.This applies to both humans and domestic animals, except for cats. I am not kidding. Female cats are allowed as they chase mice. Having no female creature around this area also means that people living in Mount Athos have to import all of their supplies such as milk produce and eggs for instance. Because where no female, there is no production of these goods.
Halkidiki is – except for Mount Athos when you are a woman – a wonderful landscape to explore and therefore my number one of highlights in Greece.
2) Meteora
When you think of Greece the first thing that comes to mind are the beautiful turquoise beaches, fishing boats and tzatziki.
But there is a lot more to this fragmented country. In the center of its mountainous region, near the Pindus valley, lays a small area with fascinating and oddly-shaped rock formations and monestaries built in and on top of cliffs. Meteora.
Read all about this mystical place Meteora.
3) Mount Olympus
Mount Olympus is the highest mountain in Greece. It is located in the Olympus Range on the border between Thessaly and Macedonia, between the regional units of Pieria and Larissa, Southwest from Thessaloniki. Fiete and I passed this beautiful landscape on our way to Athens and learned a lot about the region. Best starting point is the town Litochoro from where you can explore hiking routes up the mountain and also ancient sites such as Dion.
The whole region of Pieria's Olympus was declared archaeological and historical site for the preservation of its monumental and historical character. Fiete and I visited the archealogical site of Dion, the sacred city of the ancient Macedons. This town was dedicated to Zeus and the Twelve Olympians. Its prosperity lasted from the 5th century BC to the 5th century AD.
The excavations, continuing since 1928, have revealed numerous findings of the Macedonian, the Hellenistic and the Roman period. Currently there is a unique archaeological park of 200 hectares, with the ancient town and the sacred places of worship, outside its walls.
This area is overwhelming and totally worth to explore.
4) Delphi
Delphi was one of my top ancient attractions – very unique and majestic. It is located between the rugged peak of Mount Parnassus and a spectacular valley of cypress and olive trees and is regarded by ancient Greeks as the most sacred site in the world.
Read all about my trip to Delphi in ma separate blog post.
5) Acropolis
Acropolis! The greatest and finest sanctuary of ancient Athens. This sanctuary is an ancient citadel located on a rocky outcrop above the city of Athens and contains the remains of several ancient buildings of great architectural and historic significance, the most famous being the Parthenon.
The most celebrated myths of ancient Athens, its religious festivals, earliest cults and several decisive events in the city's history are all connected to this sacred precinct. The monuments of the Acropolis stand in harmony with their natural setting. Really impressive what the ancient Greeks built centuries ago already.
Read all about my visit to Athens in my separately dedicated blog post. I promise, Athens did not end ob on my Top 5 list because it was my birthday weekend.
No matter where or how long you go, everyone needs to make their own unique experiences with Greece. I loved it and hop that pointing out my 5 highlights to you, made it a bit easier to choose from all the great places in this wonderful country.
What are your favorite places in Greece? Let us know in the comment field.