It's my Birthday!
Wohooo – it's my birthday and my husband is flying in from Hamburg to Athens to celebrate this special occasion with me and Fiete. What a wonderful change of scenary from cruising with the motorhome along the coast of Greece by myself.
I picked up my husband at the airport in Athens – no problems at all, it was not crowded, no bad traffic and even more importantly all parking barriers are more than 4 meters high and at least 3 meters wide. So I had no trouble to maneuver my vehicle through the airport parking areas. You can probably imagine how happy the three of us were to see each other after being apart for over a month.
I parked my motorhome at a simple but for the reason perfect campsite 20 kilometers out of Athens: Camping Kokkino Limanaki. They have a very good restaurant on site with a fantastic view over the sea, so we celebrated our first evening together with a yummy dinner. And cocktails – don't ask.
Let's check out Athens
For my special day, we booked a hotel in the city center of Athens – the Be My Guest Hotel. The hotel owner Nikos himself picked us up from the campsite – how nice! Nikos' hotel is the perfect location for staying close to all the sightseeing attractions such as the Acropolis. He and his wife Maria just opened the place in Summer 2017. Everything is brand new with modern rooms and a great breakfast. And a wonderful rooftop terrace from which we enjoyed the view with an ice cold beer in our hands – cheers!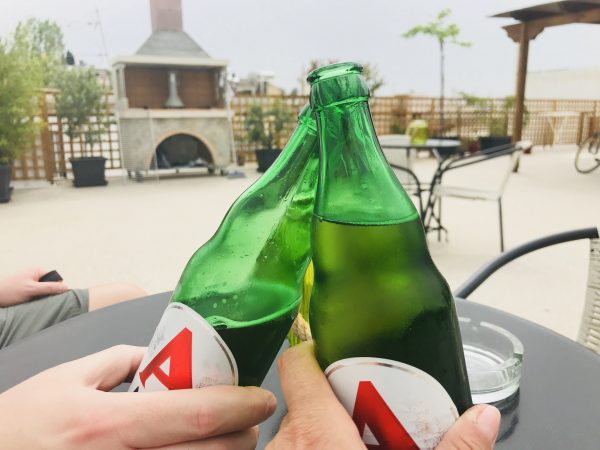 Nikos and his family invited us for a BBQ in the afternoon to celebrate my special day. How welcoming! Of course we had to stay and enjoy their great hospitality. Grilled meat, homemade sausages, various salads and of course tzatziki made our day perfect.
After our late lunch, we went to check out the city center of Athens. In a nutshell nothing special. It's a huge city with lots of apartment complexes, shops, boutiques, restaurants, a lot of stray dogs and cats but nothing unexpected. As you might know by now, I am really not a fan of bigger cities because it simply stresses me out.
So we used the time and spent hours in nice little cafés and bars. Just chilling, chatting, watching others strolling by and enjoying ourselves.
After a nice dinner at a local tavern, we called it a night after a final drink on Nikos' wonderful rooftop terrace.
Acropolis, Acropolis!
Hey, we are in Athens and of course there has to be at least one official sightseeing check on the agenda. Acropolis! Just a 20 minute walk up the hill from Nikos' hotel on ancient pavement stones surrounded by old pine trees.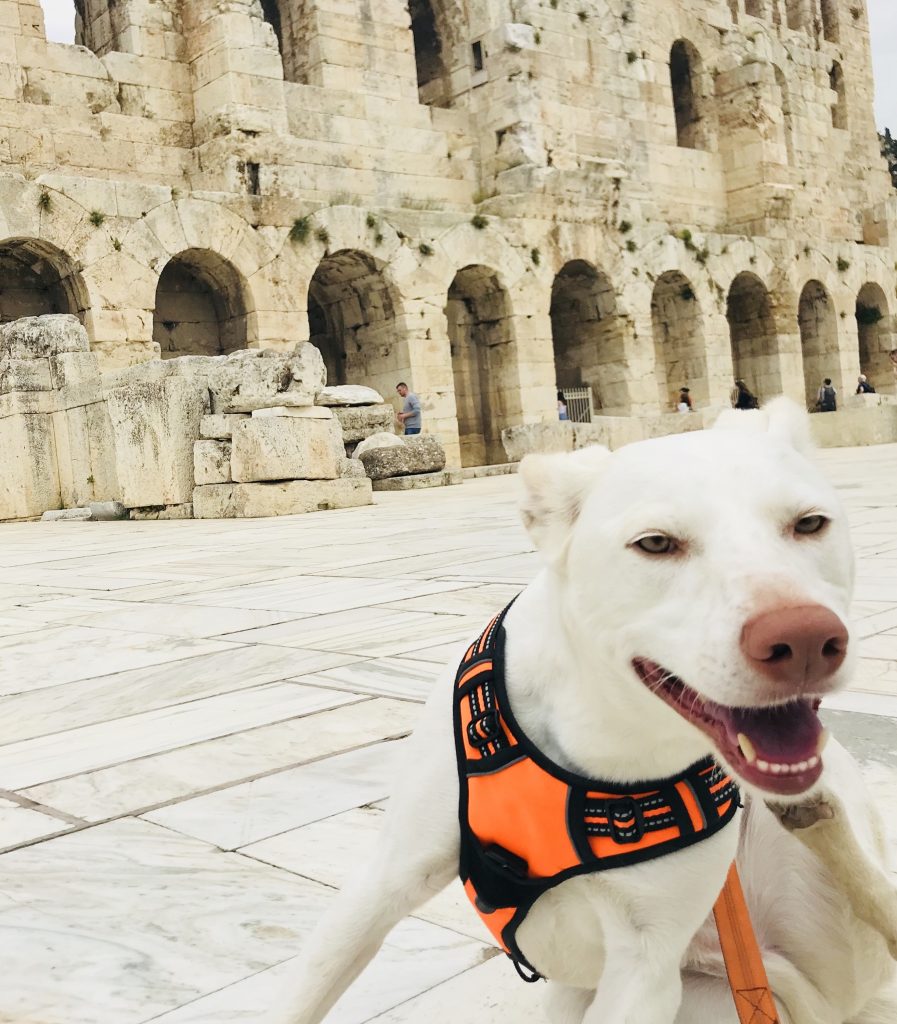 And there it was: The greatest and finest sanctuary of ancient Athens – The Acropolis. This sanctuary is an ancient citadel located on a rocky outcrop above the city of Athens and contains the remains of several ancient buildings of great architectural and historic significance, the most famous being the Parthenon.
The most celebrated myths of ancient Athens, its religious festivals, earliest cults and several decisive events in the city's history are all connected to this sacred precinct. The monuments of the Acropolis stand in harmony with their natural setting. Really impressive what the ancient Greeks built centuries ago already.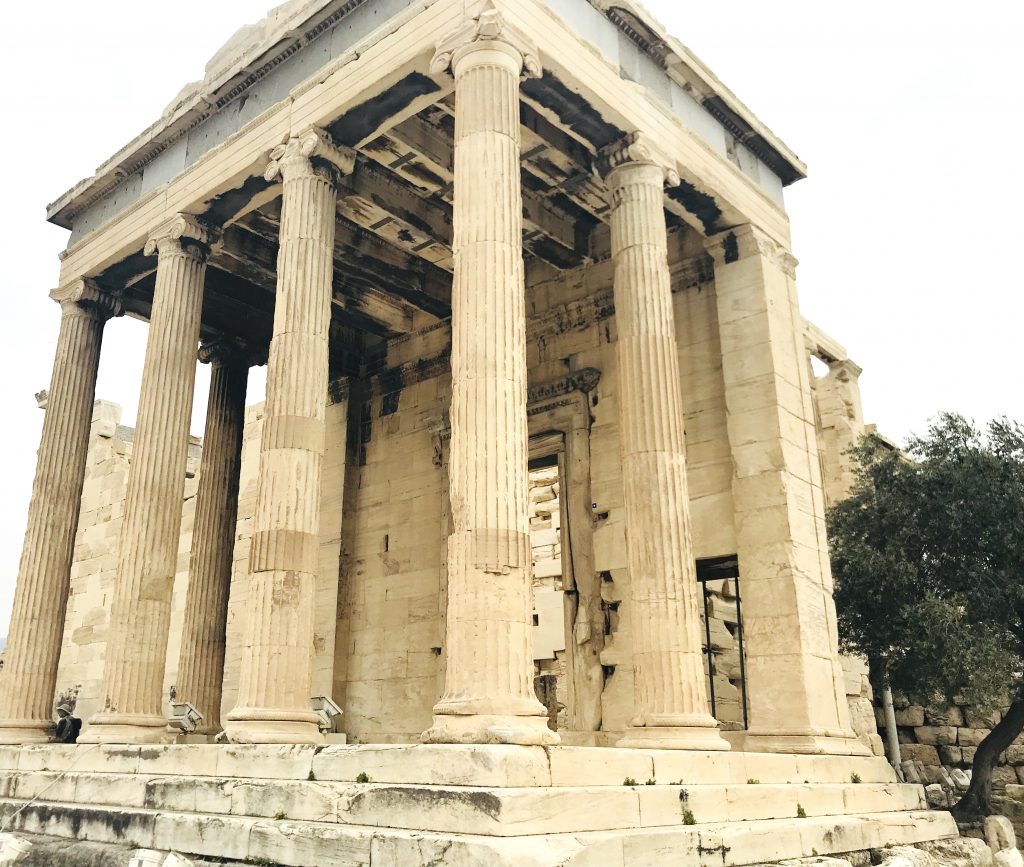 These unique masterpieces of ancient architecture combine different orders and styles in a most innovative manner and have influenced art and culture for many centuries.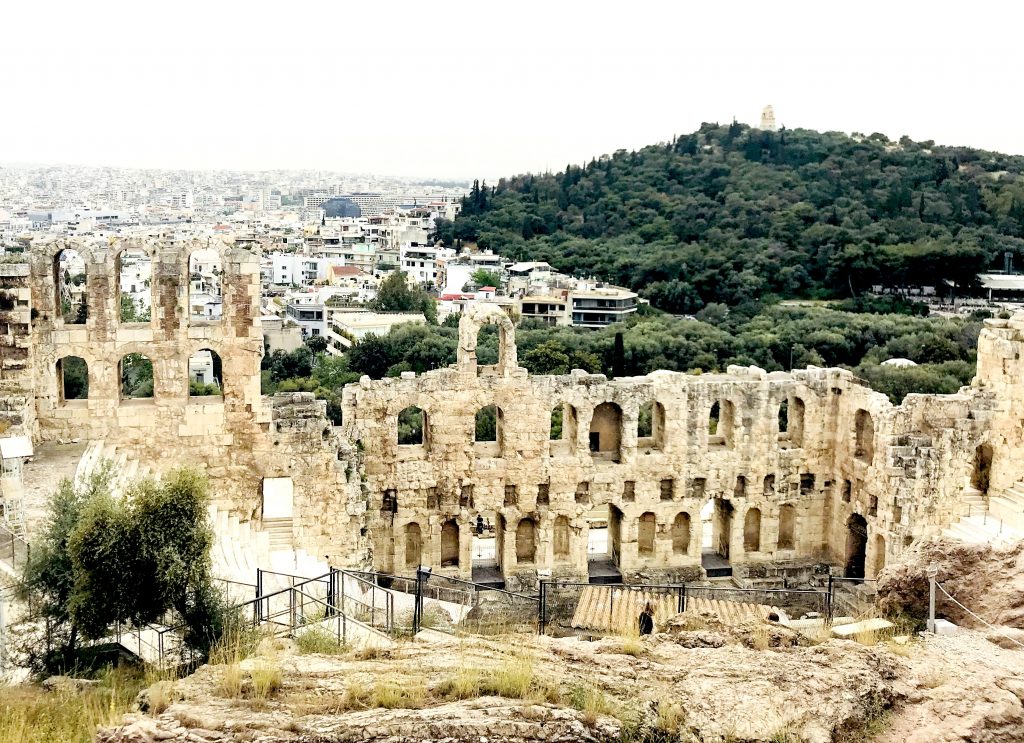 The Acropolis is a must see when you are in Athens. However, I also have to say that three aspects bothered me a little.
Dogs are not allowed. So my husband had to wait with Fiete outside while I explored this ancient site by myself.
It's too pricy. 20 Euros entry fee for one person is a lot of money for what it actually is.
Tourist crowds. Yes, it's the main sightseeing attraction in Athens, if not in Greece. But given how many people were there in April, I don't even want to picture it in the Summer.
After spending the afternoon at the Acropolis, we strolled through the streets of Athens, visited a local flee market as well as some parks for Fiete and had a delicious dinner at another local taverna.
Restaurant and café owners were generally all very welcoming towards Fiete, serving him his own bowl of water while stray dogs right next to us were looking for something to eat – what a strange scenary, but this is typical for Greece. You get used to it after a while.
Beach Time!
After having spent two full days in Athens, Nikos drove us back to our campsite. We didn't want to stay there, so we hit the road up North and discovered a wonderful place: Schinias Beach!
Apparently, Schinias Beach is one of the most popular coastal resorts in Attica located 45 km North East of Athens and close to the city Marathon. But at this time it was totally empty. No one around. It felt a bit as if we would have just discovered this place. Crystalline waters and a wonderful long and natural beach surrounded by hundreds of pine trees. What a beautiful spot!
We all loved it here and Fiete spent hours running in the shallow water:
As this beach is such a paradise, we decided to wild camp two nights here until my husband had to catch his flight back to Hamburg and I continued my route to Corinth and Peleponnese.
Overall, what a wonderful birthday weekend. I am so grateful for all these experiences living on the road and currently enjoying the beauty of Greece.
Stay tuned for more of our adventures!