First foreign country stop on this trip
After starting our trip through Europe, we have only discovered cities such as Leipzig and Dresden in Germany so far. We were therefore super excited to explore Prague, the capital city of the Czech Republic. Different culture, different language, different currency – this is what it feels like visiting a foreign country. For the first time on this 2018 trip. Unfortunately, I was very disappointed and my pleasant anticipations for this city have overall not been met. But let me tell you more about it.
Right after crossing the German and Austrian border, we immediately felt far far away from home in the middle of the Czech Republic – or its autobahn to be exactly. Driving here is very easy, as the streets are mostly free from trucks or any bigger city traffic. We arrived pretty late after a more than six hours driving marathon at our campsite which was luckily open even in off-season – Camp Dana Trója. We were very happy with our stay here because the location is just a 15 minute train ride to the city center of Prague and the owners were extremely friendly.
We got up early the next morning after a good night sleep and started our adventures to explore Prague for a full day.
Prague
If you prepare yourself reading travel guides, Prague is known for its Old Town Square, the heart of its historic core, baroque buildings, impressive bridges, Gothic churches and the medieval Astronomical Clock. How exciting!
Prague is also called "the Golden City" or "the City of a Hundred Spires". To be honest, I don't quite understand the nickname "golden" as I didn't discover any more golden buildings, monuments or bridges than in other major cities I have been to. In fact, Prague seems to be layered in heavy dark, grey and sandstone colors as you can see from the upmost viewpoint of the trip.
As we only had one day to spend here, we decided to be a real tourist and book a HopOn-HopOff tour through the city to make the most of our time. As the major sightseeing points are pretty much all located in the Old Town part, we walked through this area for about three hours to explore Prague's city vibe. So this is a great chance to tell you more about our impression on the people and culture.
People & Culture
To come straight to the point: I was expecting much more friendliness and enthusiasm from people in Prague. I had a picture of a vivid, dynamic and maybe even cosmopolitan rising city. Oh well, my expectations have not been met.
Whoever I ran into – except for the owners of the campsite we stayed at – let it be on the train, in restaurants or even the bus driver from our sightseeing tour were overall very cold and distanced. I did not feel welcomed here at all. In fact, I felt like a tourist ready to step into the next trap giving locals the opportunity to make money with me.
The city is full of tourist attractions, ticket vendors, guided tours all about medieval, angst-inducing and ghost related themes. And merchants. Merchants for every souvenir you can think of on almost every corner. This always makes a suspicious impression to me, so my alarm signals turn on automatically.
I did not feel safe here. It's simply a gut feeling and so far I could always rely on it. Besides hundreds of merchants even in off-season in March, I constantly had the fear to run into pickpockets and thieves. For instance, there was a guy right at one of the main points of interest the Charles Bridge, who unpacked three pigeons out of a tiny backpack. They all had obviously their wings clipped and even worse one of them had pink dyed feathers. I have no idea what his intend was as he was not collecting money or interacting with tourist, besides watching them from a distance. So my suspicion was to distract people and get into their pockets. I could be wrong, but better safe than sorry.
The highlight of my tourist trap feeling though was the sightseeing bus tour. I purchased a ticket right at the official tourist information center for a local provider. Of course, I asked if it would be okay to bring Fiete along. The lady looked at him and waved aside assuring me it would not be a problem. Perfect, so we made our way to the bus stop right around the corner. According to the tourist information center, the buses would stop here every 15 minutes. After 30 minutes of waiting, an empty bus showed up but did not stop, even though I gave the driver signs to please let me get on. After another 30 minutes, the next bus came by and – wohooo – stopped to pick me up. I passed the driver, sat down in a row and had Fiete lay down to start the tour. All of the sudden, an assistant lady from the provider which got on the bus later yelled at me to get out of the bus because dogs are not allowed. What?!
I was shocked and grumpy at the same time. So I walked back to the tourist information office and asked for my money back because they sold me the ticket assuring Fiete could be on the bus. To make a long story short, the woman at the counter had to call her manager who arrived another 30 minutes later to refund my money. Then they told me they are missing a special code to reverse the bank transaction which they did not have. Another calls and overall almost three hours later after having purchased the tickets, they made it work and refunded my ticket. Not cool. At all.
Just out of stubbornness and the lack of time, I then purchased a ticket at another – this time global and well known – HopOn-HopOff provider, which we've made good experiences with in other bigger cities such as Copenhagen. And yes – we finally made it on the tour! As you can see, Fiete was not very happy after all of this disaster.
In between our sightseeing chaos, we had some drinks at two restaurants in the Old Town area with similar – unfortunately negative – experiences. The service was very rude and unfriendly, they served us the wrong order without correcting them and would let us wait for more than 20 minutes for our check including a second reminder. They even wanted me to pay 20 cents to use their toilet because they thought I was not a guest at their restaurant. Oh well, with only five to ten guests at the same time, how can you not remember who you have been serving just three minutes before?
Besides my negative impressions from the people and service in Prague, the city has a lot to offer if you are interested in old, ancient buildings, squares and bridges. So for the sake of making the best out of our HopOn-HoppOff tour, I am happy to share my Top 3 of what to see in Prague with you – enjoy!
Explore & Discover
Charles Bridge
Charles Bridge is not difficult to find at all. If you approach it from the side of the river, where the Prague Castle is, you can walk to it through "Mostecká" street, leading from the "Malostranské náměstí" Square. On the other side, the bridge leads to the "Křížovnické" Square and then "Karlova" street – ending at the Old Town Square.
Charles Bridge is the oldest bridge still standing over the Vltava river and the second oldest bridge in the Czech Republic. Charles IV had it built in 1357, after the previous bridge had been destroyed by floods. The construction of the bridge was led by Peter Parler, a famous German-Czech architect. It took almost half a century to finish it until its completion in 1402.
Charles Bridge is built of sandstone blocks and its construction is surrounded by many legends. But as I am not a big believer of myths, it will be up to you to make up your own opinion on these. Fact is, that there are a lot of monuments and statues of scary creatures decorating the sides of the bridge all the way across the river.
Old Town Square 
Old Town Square (Staroměstské náměstí) is a historic square in the Old Town quarter of Prague, and is located between Wenceslas Square and the Charles Bridge. The square features various architectural styles including Gothic Churches and the Old Town Hall.
At Christmas and Easter, markets are held on the square. The Christmas Market on the Old Town Square is the largest in the Czech Republic and is visited by hundreds of thousands of visitors from the Czech Republic and abroad, primarily Germans, Russians, Italians and Britons.
Astronomical Clock
Every hour, on the exact hour, crowds gather beneath the Old Town Hall Tower to watch the Astronomical Clock. Despite a slightly underwhelming performance that takes not even a minute, the clock is one of Europe's best-known tourist attractions, and should be on the agenda for visitors to Prague. After all, it's historic, photogenic and rich in intriguing symbolism.
The clock was first installed in 1410, making it the third-oldest astronomical clock in the world and the oldest one still in operation. It is currently scheduled to be out of action from Spring 2017 to Summer 2018 while the clock tower undergoes renovations.
Of course, there is so much more to see in Prague. If you are interested in guided tours, this is your place to be. The city offers endlessly different tours with themes such as beer, wine, Czech tapas and taste tastings, to ghosts and myths to traditional folklore exhibitions and museums.
Food & Drinks
…or beer, beer, beer! Let's start this section reverse and have a look at Prague's beer culture first as the city is also called the "capital of beer brewing". For Praguers, it is more than just a hoppy drink. It is part of the culture of Bohemia. Beside the world's famous large brands Pilsner Urquell and Budweiser, the country is brimming with microbreweries and new craft beers are surfacing every day. For a new beer to succeed in that vibrant environment, beside quality, it must bring innovation and difference.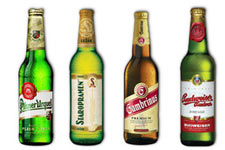 Beer festivals are one opportunity to promote local brands. They are known well beyond the borders of the Czech Republic and are regularly held providing an entertaining mix of music, market and folk festival.
And what goes best with a couple of beers? Right – food! The Czech cuisine is certainly not the best choice for vegetarians, as it tends to be very heavy, greasy and mostly contains ingridients such as pork, sausages, potatoes and sauerkraut. Czech cooking and eating habits have changed lately in favor of a healthier lifestyle, but the traditional Czech dishes and recipes are still very popular and are generally high in calories with many different sauces and spices – yum!
Another local specialty I discovered is Trdelnik or Trdlo, which is a traditional sweet pastry that has the shape of a roll and is baked over glowing coals of rotating sticks. It is very popular in Prague, and especially around tourist attractions, you will find many vendors selling it with ice cream, whipped cream nutella, jam or simply plain sugared.
Summary
Prague is a mix of beautiful and impressive buildings and bridges, small alleys with local restaurants and bars, and an interesting food culture which makes it a very unique city in the world. If it just wasn't so touristy with merchants, vendors, tours, guides and billboards on every freaking corner. Of course, Prague makes its money from tourism, but does it have to be that obvious? Other metropolitan cities are more discrete about it and could be a great example for Prague.
And the friendliness. I just hoped people in Prague would be more open and happier. It might have been the season, and maybe this picture improves with increasing temperatures, but it could also just be part of their culture – who knows?!
Other than that yes, Prague is worth a weekend trip if you are interested in city sightseeing hopping.