Route
As Fiete and I were in Croatia in March 2018, we were not only discovering great new places such as islands & cities or the stunning National Park Plitvice Lakes, we also checked out some campsites along our route.
I am happy to share my experiences on all the campsites we have stayed at with you in case you are planning this or a similar trip along the beautiful coast of Croatia.
What's Camping in Croatia like?
Camping is one of the most popular form of accommodation in Croatia as most of tourists visiting stay in campsites either with their caravan or tent. Some places even offer motorhomes, bungalows and apartments for rent. As most Croatian campsites are privately owned, there is a lot of competition, which is in favor for travellers. You can rely on the fact that this country is very well prepared for campers.
The facilities such as bathrooms and supermarkets on site are all at least on European standards. Often times, there is also additional amenities such swimming pools, playgrounds and sports offerings. Not to forget that most of Croatian campsites along the coast are right at the beach with a beautiful sunset in the evening.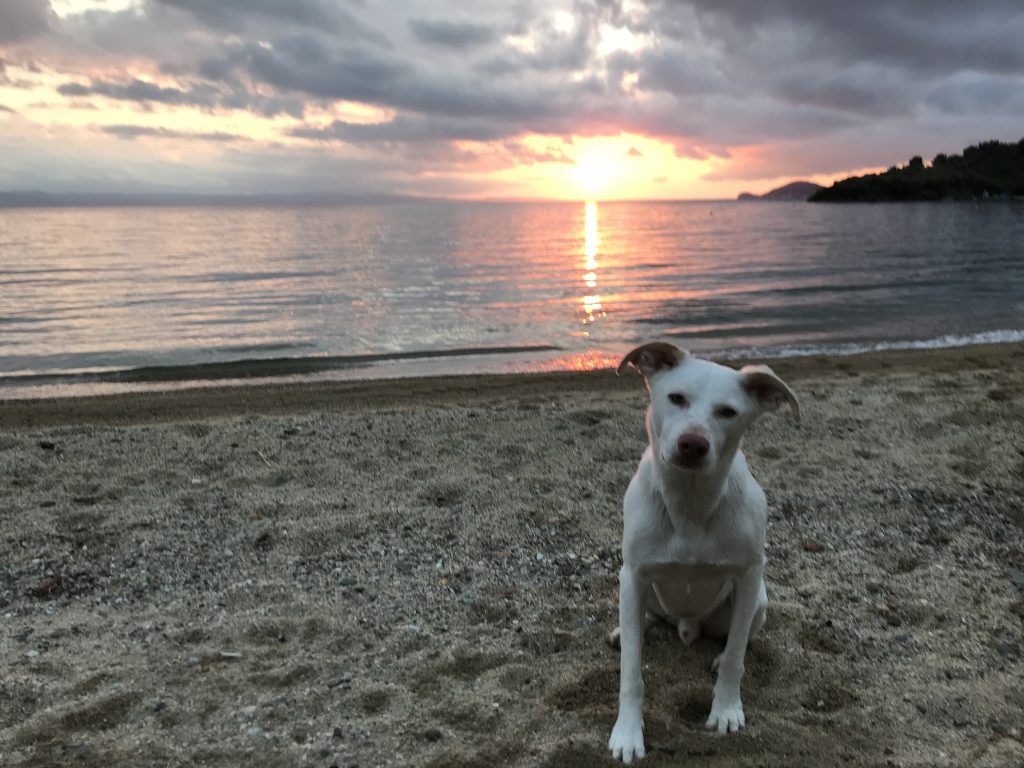 Here is a list of favorite campsites Fiete and I visited on our trip. The rating from one to five stars is based on location, facilities and (dog) friendliness of the owners. As we were travelling in off-season, the choices were very limited as most campsites open in May.
Campsite Review
Camp Zagreb (Zagreb)  
* * * 
* 
Address: Jezerska 6, 10437 Rakitje

GPS: N 45°48'09.1″ / E 15°49'34.4″
Camp Zagreb is perfectly located right at Lake Rakitje in the middle of nature. As you would expect from the name, it is the most closest to the city Zagreb. It's not. By train 281 and some walking you will need at least one and a half hours to get to the city center.You best go by car or taxi in 30 minutes.
The bathrooms are clean, functional and well maintained. They have a very good lounge bar & restaurant with local food on the campsite. The service is stunning with very nice owners who also have a dog – boxer Xena. Overall, this place is  super pet-friendly where Fiete was very welcomed. A bit too pricy for the off-season with 20 Euros for the motorhome, one person and a 3 Euro charge for the dog.
Camp Arena Stoja (Pula) 
* * * 
Address: Stoja 37, 52100 Pula

GPS: E 44° 51′ 41.744″ / E 13° 49′ 10.587″
Camp Arena Stoja is beautifully located at the coast with a great view over the sea and a natural beach right infront of the door. The campsite has a perfect location only 5 kilometers away from the city center of Pula. As there is a shipyard close by, it can be a bit noisy, but it's totally fine at night.
The pitches are spacious compared to other places in the area. The facilities could be cleaner, but I blame it on the off-season. No trouble getting on the WiFi. They have a restaurant with yummy pizza. The service is friendly with nice staff. Overall, this place is  very pet-friendly with lots of running space at the beach. Reasonable off-season pricing with 15 Euros and no extra charge for Fiete.
Camping Bear (Plitvice Lakes) 
* * 
Address: Selište Drežničko 52, 47245 Rakovica

GPS: N 44°56'52" / E 15°38'15"
Camping Bear is perfectly located for a trip to Plitvice Lakes National Park as it is just a five minute drive by car to the main entrance. They also offer a shuttle service at low charge. It's pretty noisy here as the campsite is right at the main road, but manageable for a good night sleep.
The campsite is fairly small with space for approximately 20 caravans, and the pitches are tiny. You basically park door to door with your neighbors. The bathrooms are very basic but clean, they even have a washing machine. The owners are friendly and welcome pets. As they have many cats in the area (which Fiete loves to chase up on trees) and there is a busy street close by, I had to keep him on the leash at all times.
Overall, this place is really just a sport for sleepovers if you are visiting the Lakes. With 15 for what it is, I think it's overpriced.
Autocamp Sirena (Omis)
* * * * *
Address: Lokva Rogoznica, 21317 Croatia

GPS: N 43°24'26" / E 16°46'37"
Autocamp Sirena is perfectly located right at the sea with a private natural pebble beach. What a wonderful setting! The campsite is very spacious with pitches on multiple levels almost all overviewing the beautiful landscape.
Fiete and I loved our stay here as we were almost the only ones. The facilities are very basic, but clean. They have a washing machine on site. The owners are extraordinarily friendly and welcoming, offering us to cook dinner as the restaurant close by were all closed. There is a beach bar with a great view right next to the Autocamp. The prices are moderate with 15 Euros for the motorhome, one person and the dog was free of charge. All thumbs and paws up!
Auto Camp Matkovica (Dubrovnik) 
* * 
* 
Address: D8 7, 20207, Srebreno

GPS:N 42°37'28",  E 18°11'35"
Auto Camp Matkovica is perfectly situated for visiting Dubrovnik. You can take the bus or even the ferry and be in the city center within 30 minutes. The small and privately owned campsite is terraced on a steep mountain slope with sea view from almost anywhere. There is a pretty public beach nearby. As it is located at the main street, it can be noisy at nights.
The facilities are basic and functional but overall clean. There is a washing machine to use and supermarkets as well as a bakery right across the street, which makes the stay very convenient. Reasonable pricing with 15 Euros for our pack. The dog friendliness was average.
If you need any further recommendations on campgrounds in Croatia, feel free to contact me directly.