Gdansk & Danzig
If you follow my blog frequently, you know that Fiete and I are currently cruising along the Baltic coast starting in Germany and leading us to countries such as Poland, Lithuania, Latvia and Estonia. The Baltics. And Scandinavia.
Poland was our first foreign country on our sea trip. Strictly speaking Poland is not part of the Baltics but in this context I consider this country with its amazing coastal line and beaches along our way as such. Don't be cross with me. It fits in too well with our current route:
After a couple of stops to check out wonderful empty dunes and beaches, go swimming and chase balls, it was time for city sightseeing again.
How convenient that the Hanseatic city Gdansk or Danzig as you say in German was just on our way. Time for a stopover to check it out.
Stay & Transport
We stayed at a campsite perfectly located to the local tram which led us right into the city center.  Tickets for buses and trams are purchased from the driver or kiosks. Prices are based on the time you travel shown in the timetables posted at the stops. Single tickets for 15 minutes cost about 0,45 Euros. Day tickets valid for 24 hours cost about 2 Euros. Dogs drive for free but have to wear a mussle.
City Sightseeing
And here we were. In Gdansk.  After a 10 minute tram ride. What a gigantic welcome – Thank you!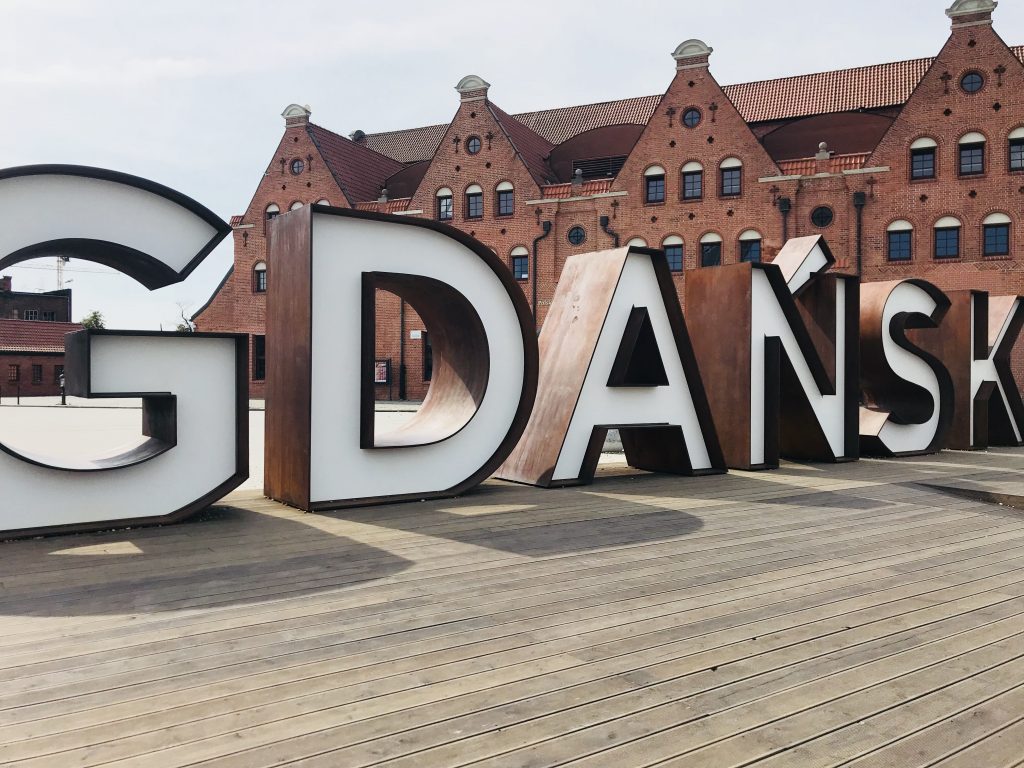 The first thing I noticed was how calm and peaceful it was. Well, it might also have been the fact that we arrived on a Sunday morning at 8 AM, but just to keep up the picture we will pretend it's always like that.
It's hard to believe that nearly half a million people live in Gdansk including the so-called Tricity (Trojmiasto) which are the neighboring towns Sopot (Sopot) and Gdynia (Gdynia), bringing together around 750,000 inhabitants. Maybe they are all late risers. Who knows.
Strolling through the City
Come and stroll with us. But before we get started, you should know that Gdansk has been divided into the Old Town and the Legal City, to distinguish the "real city" from the less rich Old Town.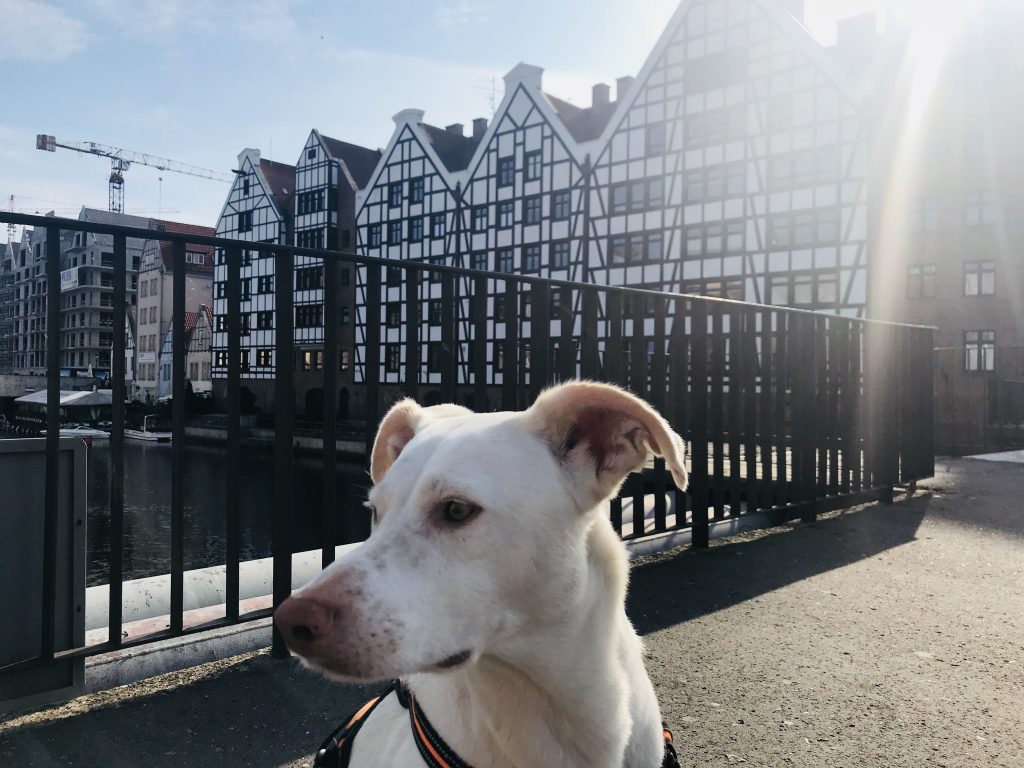 But it is not the case that most of the sights are in the old town, as in so many cities. In Gdansk, there are almost all historically important buildings in the legal city, which thus represents the city center and the historic center.
These two cities are even separated by a city wall and each part has its own town hall. In total, there are 13 city gates in Gdansk. The three most important are the Golden Gate, the Green Gate and the Crane Gate. You can see them all as you walk along the port area.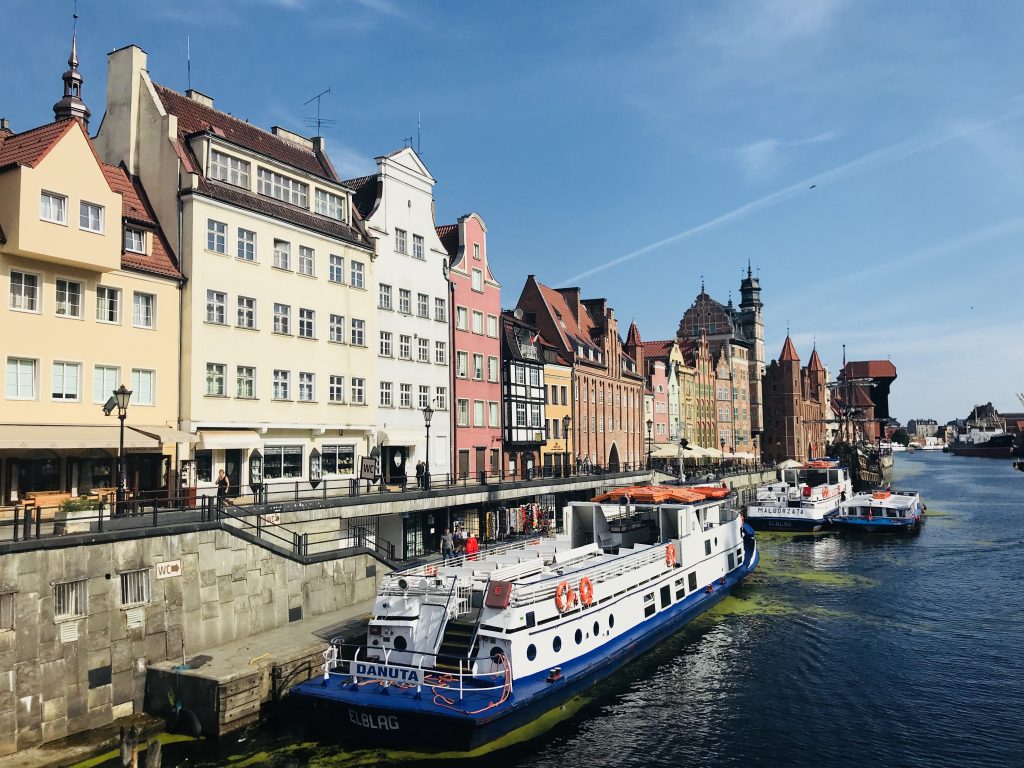 The Town Hall (Ratusz Głównego Miasta) at the Long Market (Długi Targ) are one of the most popular photo opportunities in Gdansk. For a reason because they are simply stunning. You will see it when you walk along the famous Langgasse (Ulica Długa). This is also where you can find the City Museum.
The Long Market is the extension of Langgasse, which ends with the Golden Gate (Zlota Brama), also called Langgasser Gate.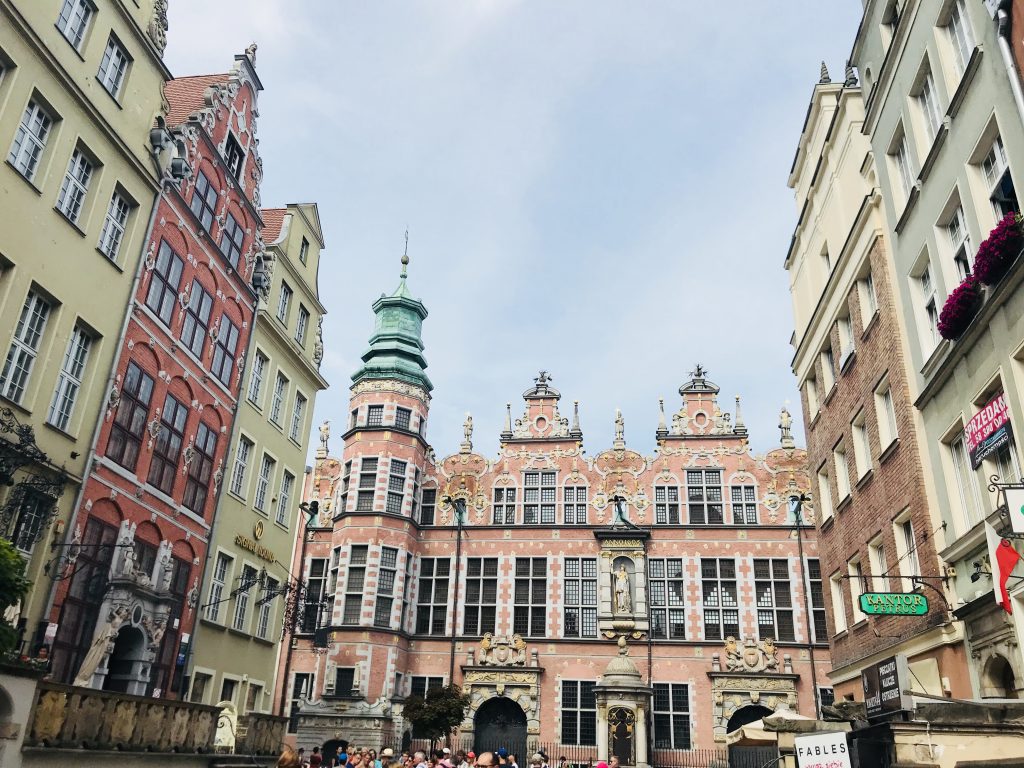 Just a few meters from the town hall, in the middle of the main square, there is the Neptune Fountain (Fontanna Neptuna), which has stood directly in front of the Artus House (Dwór Artusa) since 1633.
You are here on the so-called royal road, because if the nobles were driven through Gdansk, then they preferred this way. I understand why. It has a very royal and elegant touch to it.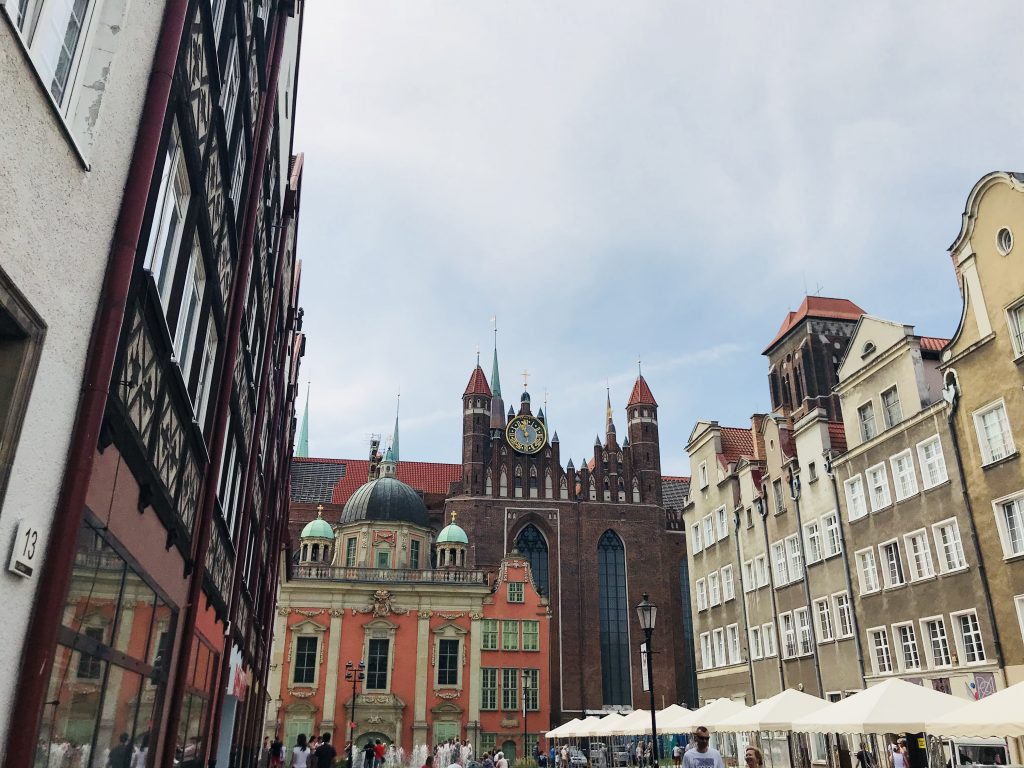 This street will most likely enchant you with the ornate buildings within a few seconds, but then wait until you see the Woman's Lane (Ulica Mariacka), because this is supposed to be the most beautiful street in all of Gdansk. Even Fiete was quite impressed as you can tell.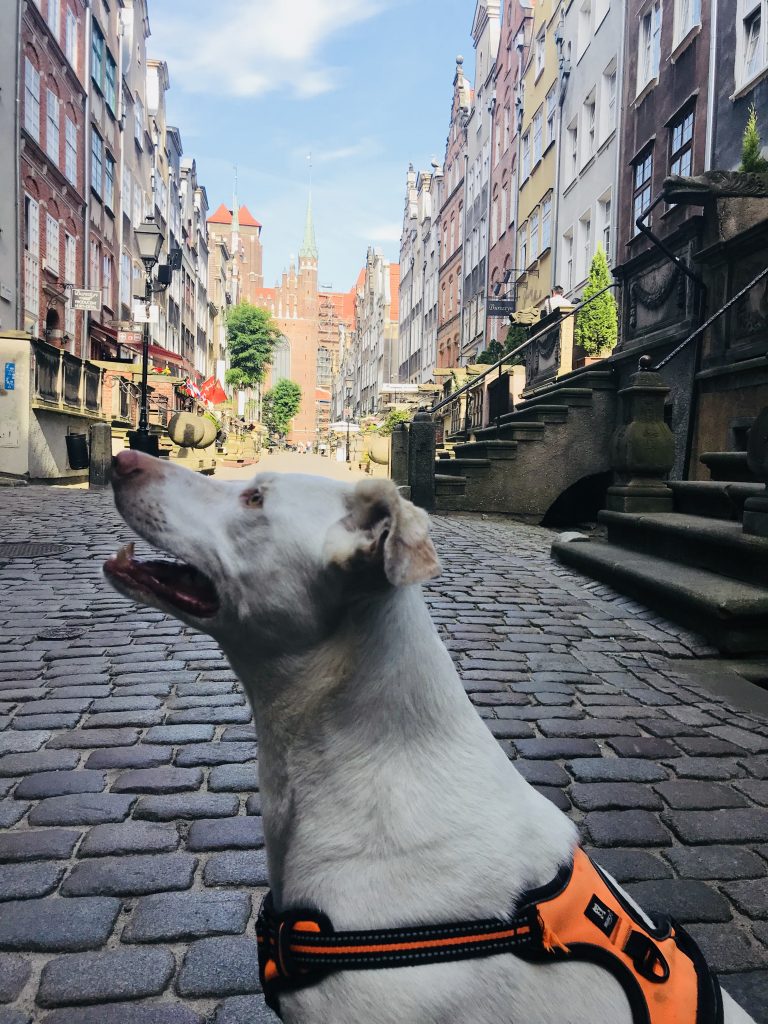 It is located between St. Mary's Basilica (Bazylika Mariacka) and the waterfront of the river Motława, which flows through the city and is a natural marking point for the harbor area.
Definitely walk along the harbor area with its restaurants, bars and little shops. It's beautiful here, even though it has a touristy touch with all the sightseeing boats.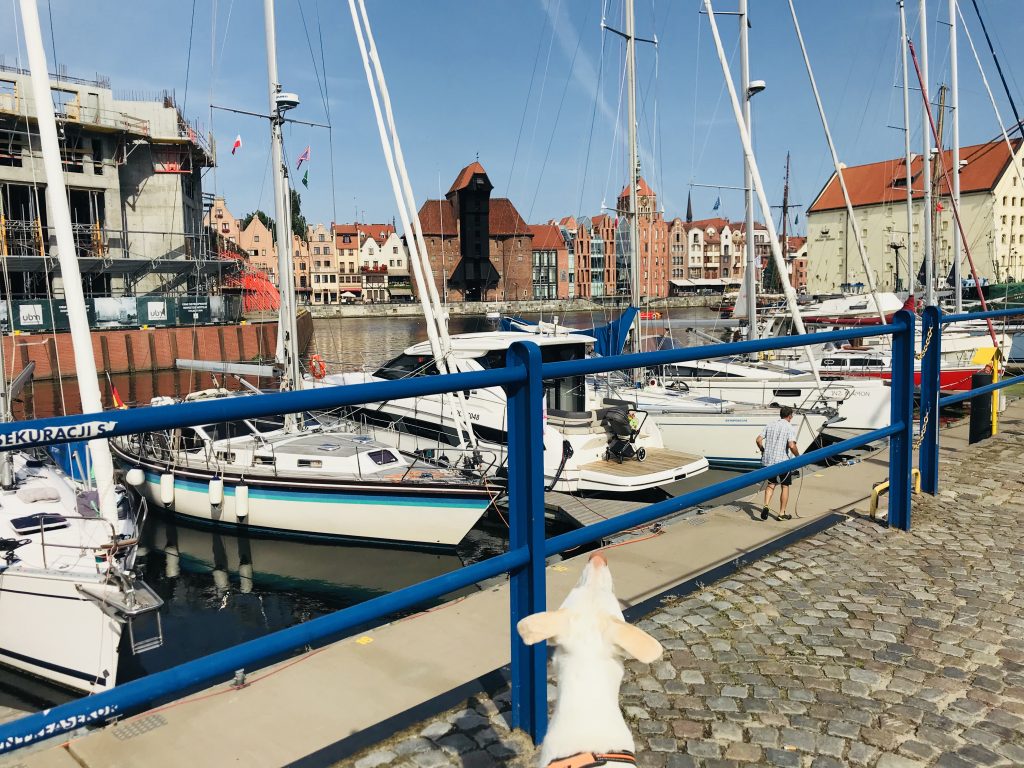 Now I understand why Gdansk is also called "Pearl of the Baltic Sea". All these pretty spots around every corner. Time to get rid of some Polish Zloty and buy some souvenirs.
Shopping & Souvenirs
You can find anything in Gdansk. But typical souvenirs from Gold Water, a sweet herbal liqueur with an aniseed flavor that has been buried with real gold flakes.
And amber – "the gold of the Baltics". Amber has been one of the most important regional export goods for the past 5,000 years. From necklaces and bracelets to earrings and sculptures, the possibilities and designs of souvenirs to take home are endless. You can find vendors throughout the old town for instance.
Sea Life just around the corner
Those who fall for the sea air and the screeching of the seagulls and are attracted by the sea, fortunately do not have far to go in Gdansk.
You can get to the sea quickly by public transport. If you like the hustle and bustle, go to Sopot. If you prefer to walk in peace on the beach you might rathe want to go to Brzezno. In contrast to Sopot, this beach is deserted even in summer.
Fiete and I stayed at Stogi beach which is super easy accessible via public transport but unfortunately also quite crowded in the Summer. So we chose to escape from the masses in bikinis and swimsuits and go to the pine forest close by.
Summary & Next Stop
Water, harbor, churches, ancient buildings, little restaurants and bars. Fiete and I spent a couple of hours strolling though Gdansk and I have to say this was the least stressful and crowded city sightseeing on this trip so far. We both loved it.
No tourist masses, no ticket vendors, no merchants, no HopOn-HopOff busses. Wonderful! Don't forget to sit down, have a coffee, watch people wander around and relax. Or order the soup if the day and see what happens.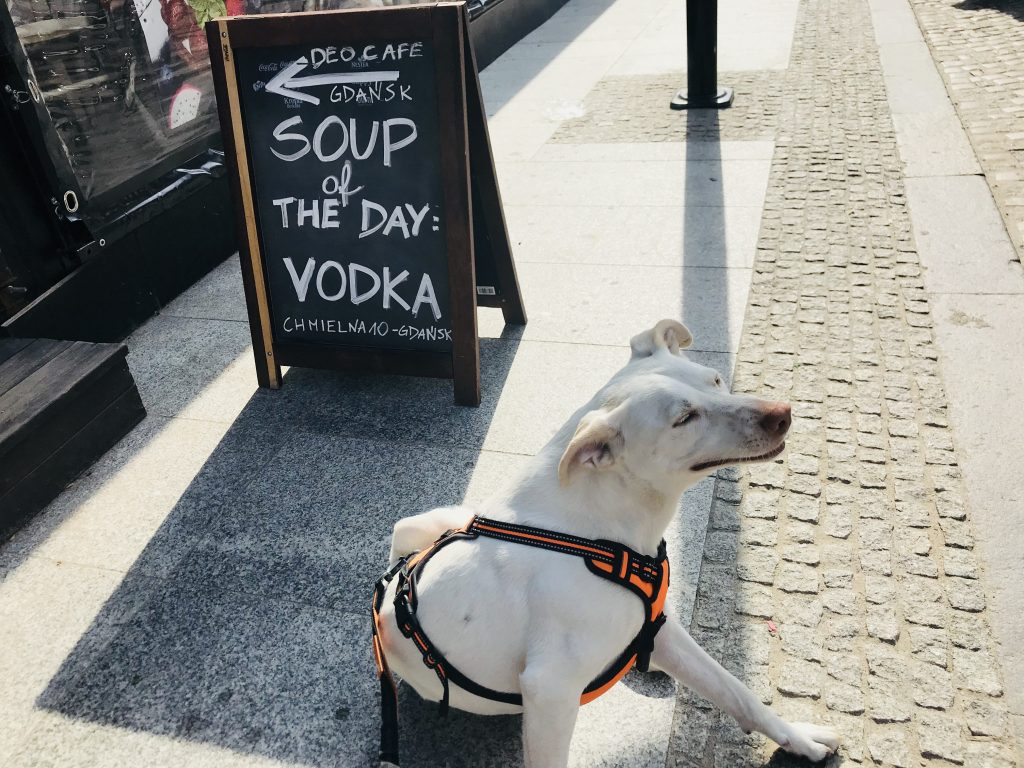 We are now off to our next stop which will be Riga in Latvia. Stay tuned.