Never heard of awns and how they can be dangerous for your dog?!
Well, I can now tell you all about it. We are in Tuscany, Italy right now and apparently May is the high season for awns here, so I would like to warn all dog owners who are currently in the area.
What are awns?
An awn is part of a cereal ear or a cereal-like weed. It encloses the seeds with very fine hair. The end of this fine hair is pointed at the front, is very rough and acts as if occupied by small barbs. These small and pointy plant parts are not as harmless as they look at first glance.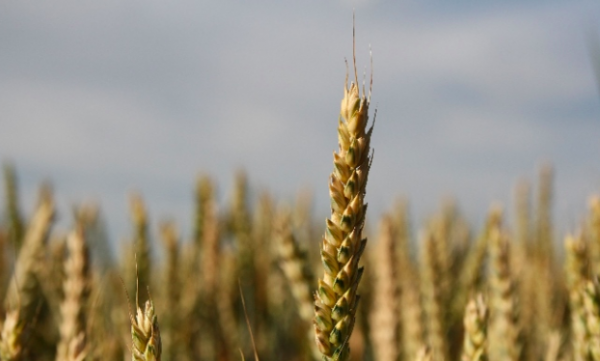 In the warm season the awn is a real plague for all animals. When walking or playing in the field and on the lawn, your dog can quickly catch awns that are painfully poking into the skin. Once it has penetrated the skin, it can go deeper into the body, ears, nose, mouth or paws quickly and cover a considerable distance.
Also, through normal inhalation, awns can enter the body. They can continue to migrate through the respiratory tract to the lungs. If the awn has penetrated through the nose, the dog will sneeze frequently enough to get rid of the culprit. Possibly. There is also an outflow from the nose, which can become purulent after a few days.
What are the Symptoms?
Symptoms include sudden and heavy licking of affected body parts, frequent coughing and/or sneezing, squinting of an eye or both, eye(s) redness, inflamed swollen body parts, head shaking, ear scratching, and so on. So whenever you see such a or a similar behavior with your dog after a walk in the Summer, pay attention to awns. Check your dog very carefully and if you are not sure, see a vet immediately.
Why are awns dangerous?
If awns are not being removed immediately, they will certainly cause very bad inflammation in the affected part of the body. It is extremely painful for your friend on paws.
If you see any symptoms of inflammation such as swelling, redness or even fever, seek a vet immediately. The awn(s) will then most likely have to be removed. If the problem is quickly detected, the vet can open the area with a small incision and remove the awn. But once a purulent abscess has formed, the removal and opening is only possible through a surgical procedure.
How to avoid awns
Although you can not completely prevent contact with awns, you should thoroughly examine the coat, eyes, ears and paws of your dog after walks in fields and meadows.
After the experience with Fiete, I will now definitely avoid walking areas with open fields, meadows and grass. Especially here in Italy, where awns are much more common than in other areas of Europe. I didn't know this before.
I had to remove over 50 awns with tweezers out of Fiete's coat and paws yesterday after we had a long walk in the Tuscany area. There was even one in his nose which I managed to pull put after he had a sudden sneezing attack. I really hope that I was able to remove them all. So far, he does not show any symptoms.
Keep you fingers and paws crossed for us.
Update: Flower Power!
Unfortunately, I seem to have missed to pull out an awn.
It's a week after my blog post about the danger of awns for your friend(s) on paws, and Fiete unfortunately developed a huge abscess on his neck. So we made our way back home earlier than planned, to take him to our local vet, who opened the infected area with a scalpel immediately. No worries, I will not show you pictures.
Fiete was in pain after the procedure, so I called my friend Barbara Oczujda, who is an expert in Herbal Animal Therapy.
Basically, with essential oils and the power of nature, you can stimulate reactions such as relaxation, wound healing and pain relief. In Fiete's case, with the natural pain killers yarrow and carrot seed, Barbara was able to take away Fiete's uncomfortableness and help him to chill, which you can see from his strong reaction in the video from our session:
We also applied clay powder to his wound to prevent further infection and expedite the pus to drain off.
Well, I can tell you, Barbara's "Flower Power" technique worked. Fiete is feeling much better today and is running around like nothing happened – amazing!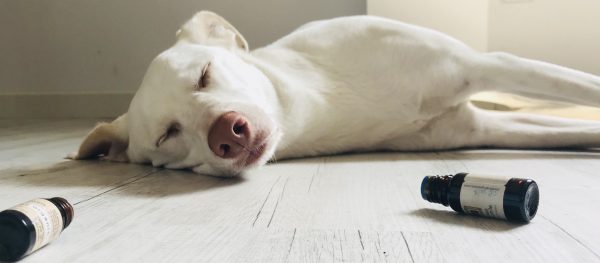 If you would like to know more about Animal Herbal Therapy, just contact me and I will introduce you to wonderful Barbara. Woof!