Route
Today is our last day in Greece because we are taking the ferry from Igoumenitsa to Bari in Italy for more camping adventures on the other side of the Adriatic Sea. As Fiete and I were in this beautiful country for a couple of weeks in March and April 2018, we not only met wonderful people but also checked out a couple of campsites along our route. In case you are planning this or a similar itinerary, these are our top spots to stay and why.
What's Camping in Greece like?
Greece's economy is built on olives, wine and…tourism. For me, it is the perfect country for camping as people are not only very open and welcoming, but also run wonderful campsites. Most of these are beautifully located right at a beach.
You can tell that there is a lot of competition among campsites, which are mostly family owned, because they invest a lot to attract and keep guests. The facilities such as bathrooms and supermarkets on site are all at least on European standards. Often times, there is also additional amenities such swimming pools, playgrounds and sports offerings.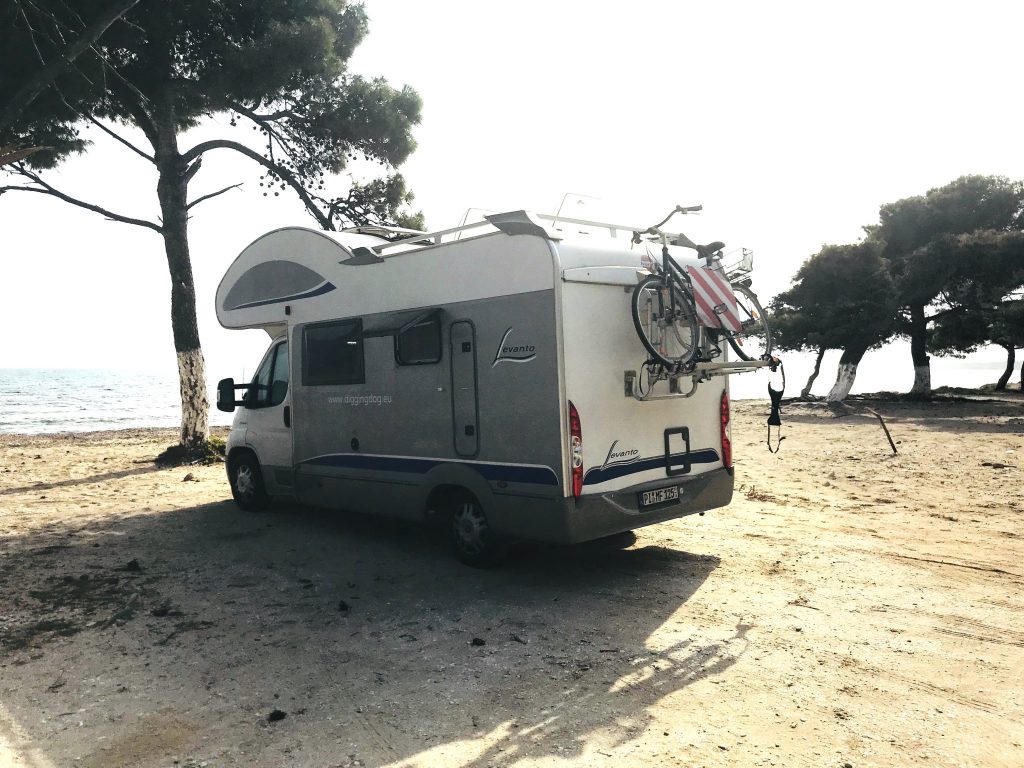 As I have been travelling in off-season, my list of favorite campsites in Greece is not only based on location, facilities and (dog) friendliness of the owners, but also limited by the factor of opening hours in March and April.
Here we go with my Top 8 list of campsites in Greece along Macedonia, Thessaly, Athens, Peleponnese and Ellada. The scale rates from 1 to 5 stars.
Campsite Review
Camping Batis Beach  
* *
Address: 4th Old Kavala-Thessaloniki, 65500 Kavala

GPS: 40°54'56″N / 24°22'43″E
Camping Batis Beach is part of a hotel, restaurant and bar complex (Multiplex) and perfectly located in a protected bay with private sandy beach and clear water.
However, you can tell that the campsite is just a side business. It seems that they are only using some leftover space for camping pitches as these are the tiniest ones I have seen on my trip through Greece. Unfortunately, this place is also an example for a bad winter camping experience. The bathrooms are badly maintained and dirty. There are no toilet seats or toilet paper and no disposal place for chemical toilets our waste water. This seems weird for a campsite.
For being in such a bad condition, I was also very surprised that they charged 20 EUR per night for one person and a dog. And they required upfront payment in cash at check-in.
Two stars for the very nice location and having the campsite open in low-season, but that's all I can give. In the Eastern Macedonia area, this was the only option I had for staying overnight. This is why this place shows up on my top list at all.
Camping Stavros 
* * * 
*
Address: Agia Kiriaki Sithonias, 63081 N. Marmaras

GPS: 40°2'33″N / 23°48'51″E
Located at an idylic area of Chalkidiki, this campsite is  just a few kilometers away from Neos Marmaras in Agia Kiriaki. The drive there is beautiful along the coast as you can see in my dashcam video:
They have a private wonderful sandy beach surrounded by palm trees. It was entirely empty when we stayed here, so Fiete had the beach all to himself. Well, beside the straydogs. There was a pack of three to five wild dogs around us. But they were very friendly and just wanted to get some snacks from us, which we of course happily provided. Nothing to worry about.
You can tell that the campsite owners  invest a lot in their place. The bathrooms were very modern and clean. I don't know anything about the restaurant or supermarket as they were closed due to the season. But the owner was very nice and provided me with fresh milk and bread from the village nearby every morning.
The off-season pricing with 15 Euros and no extra charge for Fiete was absolutely reasonable for this great place.
Camping Hellas 
* * 
* * 
* 
Address: Volou Neochoriou 30, Kato Gatzea 373 00

GPS: N 39°18'38″/ E 23°06'35"
I love this place! I just wanted to stay for three nights and ended up for over a week. The campsite is located perfectly in a little protected bay with a private sandy beach and crystal clear water. The pitches are spacious all overlooking the fantastic view. Olive trees along the property.
There is a small town with restaurants and bars just in walking distance of 5 minutes. The campsite restaurant is a very good choice as well. Local fresh produce and moderate prices. They also have a bar right at the beach which serves coffees and drinks.
The facilities are modern and very clean. Free and actually well working WiFi.
The best about this family owned place are the owners! Such a warm and lovely hospitality from Adonis, his sister and mom. Very dog friendly as well. Fiete came along with the family's dogs very well and they spent the days playing at the beach together.
Very moderate and fair pricing. I paid 15 EUR per night including me, Fiete, power and free washing machine use.
Camping Kokkino Limanaki (Athens)
* * 
Address: Dimokratias 100, 190 09 Rafina

GPS: 38.03165 / 24.001583
This campsite is an ideal base for visiting Athens as it is located just 20 minutes away from the Acropolis. The airport of Athens is only a 20 minute drive. This place is 100 meters above sea level and has also access to the beach below.
There are about 50 pitches of various sizes on partly sloping ground, some of which have views over the Aegean sea and nearby islands. All of them have electricity.
The single sanitary block has unisex showers and is old but overall working and clean. There is also a bar and restaurant "The Balcony" with sea views from the terrace which I can recommend.
The prices are moderate with 15 Euros for the motorhome, one person and Fiete was free of charge. All thumbs and paws up – I think this campsite is the best option you have visiting Athens.
Camping Tsolis 
* * 
* 
*
Address: Aigialeia 251 00

GPS: N 38 19′ 15" / E 21 58′ 19"
Camping Tsolis is located at a rocky private beach with nice and clear water. They even have a beach bar which they charge access fee for in Summer. All pitches have great views over the bay.
The bathrooms and facilities are the best I have seen in Greece. Super modern and extraordinarily clean – very nice! Everything is perfectly set up for campers with fresh water supply everywhere, waste water dumps and an actually hygienic chemical toilet disposal.
As this place is located right at a highway, it is very noisy at all times, also at night. This is really the only downside which leads to four instead of five stars.
Delphi Camping (Delphi) 
* * 
* 
Address: 4th km Delphi Itea Road, Delfi 330 54

GPS: N 38.48.390 / E 22.47.550
Delphi Camping is the best location for visiting ancient Delphi. The sanctuaries are only 4 kilometers away and you can even walk within 45 minutes from the campsite to the archeological complex. The view from all camp pitches is simply stunning because it is on top of the mountain overlooking the landscape and the Gulf of Corinth nearby.
The campsite is very nicely maintained and the bathrooms are moderate and clean. There is even an outdoor pool overlooking the valley of Itsea. Unfortunately it was closed when I was there end of April 2018.
The family owning this place has olive plantations, so you can buy their local produce such as olive oil, spreads and soap in the local supermarket.
The price for this great spot is very fair with 17 EUR Euros for our pack. Fiete loved this place because there are many hiking tracks through the mountains nearby which are perfect for long walks.
Camping Vrachos Kastraki (Meteora)  
* * 
* 
Address: Kalabaka 422 00, Kastraki

GPS: N 39°42'47.48 / E 21°36'57.39′
Camping Vrachos Kastraki is a wonderful place to stay on your journey exploring Meteora's rock  formations and monestaries. It is very central to the city center and also serves as a great starting point for walking paths up the hills of Meteora.
The campsite is pretty large with about 250 pitches as they have just recently extended the area. The view is simply breathtaking as this place is embraced by the famos rocks of Meteora.
The facilities and bathrooms have just been updated and are up to very modern standards. Large shower cabins with hot water and so much pressure that you can perfectly wash out shampoo, which is not a standard on most campsites throughout Greece.
They also have a pool which unfortunately wasn't open when I stayed here end of April. A little family led taverna on site serves simple traditional Greek food for dinner – super yummy and highly recommended.
The pricing is absolutely fair with 17 Euros per night. If I will come back to Meteora, this is the place to stay.
Camping Drepanos Igoumenitsa 
* * 
* 
Address: Beach Drepanos, 46100 Igoumenitsa

GPS: 39°30'36 N / 20°13'16 E
Camping Drepanos Igoumenitsa was my last destination in Greece and is perfectly located at a crescent-shaped peninsula just 5 kilometers away from the ferry port. You can watch the ferries shipping by mostly at nights because this is were most of them leave to Italy.
The campsite is surrounded by a very nice sandy beach on the right side of the peninsula, and a more rocky and natural beach on the left. Fiete and I enjoyed very much that we have had his sandy running path right in front of the door.
It is overall very simple with mostly permanent local campers who set up their caravans in the first rows and probably visit over the weekend. It has a bit of a trashy touch to it, but sympatic.
The bathrooms have just recently been updated and are brand new. If they would have just updated the hot water system, which is not available during any times of the day or evening. What a pitty.
The restaurant and mini market were closed when I stayed here and of April, unfortunately. The pricing is moderate for this place with 15 Euros per night.
If you need any further recommendations on campgrounds in Greece, feel free to contact me directly. We have visited a lot during our trip, but I had to limit the selection to my top places.